Perfect Draft Series: Drafting 3rd in a 12 Team PPR
For 2015, 4for4.com has introduced the Draft Analyzer software to its already stellar lineup of customizable tools. Not only does Draft Analyzer already come pre-loaded with John Paulsen's rankings for 4for4 subscribers, but the software adjusts dynamically to subtle changes in your draft and modifies your recommended picks accordingly.
My favorite features to this new draft software are the ability to build your own draft plan and identify players that you want to target and avoid. The draft planner lets you tell the software the exact rounds that you want to target certain positions, while the target/avoid list will either take players off of your board or highlight players that you want around their ADP, even if they aren't the optimal recommendation.
Here are the restraints that I built into my draft, along with brief explanations:
Quarterbacks: No QB before Round 10 - I'm a firm believer in the late round quarterback strategy and streaming the "onesie" positions, especially in leagues that aren't too deep.
Running Backs: No RB before Round 3 - John Paulsen has discussed the safety of receivers versus running backs in the early rounds and if we should be drafting more wide receivers in the first round. I'm all in on early round receivers, especially in this format, which I'll explain shortly.
Tight Ends: 1st Round TE or no TE until Round 10 - Outside of Gronk, I'd argue that supply and demand dictates waiting until the late rounds to draft a tight end.
Team Defense: Almost always wait until your last pick.
This is a 12 team PPR league that starts 1 QB, 2 RB, 3WR, 1 TE, 1 Flex, and 1 Team Defense, with no kickers (because who really likes kickers?) and 7 bench spots. QB and TE are capped at two per roster, and no team can select more than one Team Defense. 
I'll be drafting from 3rd position, which may be one of the most difficult positions to draft from this year, especially in this league type. Without a clear consensus number one pick and a premium on wide receiver in a PPR league with up to 4 starting wide receivers, the early part of round one can go in many directions.
Target List: Allen Robinson and Eric Decker - With my plan to go with a wide receiver early approach, I want receiver depth that can help me dominate, not just compete in, my league. Allen Robinson is my sophomore wide receiver breakout candidate and Eric Decker's price doesn't account for his elite touchdown scoring ability.
I didn't avoid any players, as I believe every player can be a value at some point in the draft.
Round 1, Pick 3 - Antonio Brown, WR, Pittsburgh
I'm committed to the early wide receiver approach at any spot in the first half of the draft, but with LeVeon Bell and Adrian Peterson going 1-2, my pick is even easier, and Draft Analyzer agreed. No player, let alone wide receiver, has been as consistent as Antonio Brown over the last two seasons. Brown is a virtual lock for 5 catches per game and he's the primary target in one of the best scoring offenses in the league. In 2014, Pittsburgh ranked 4th in both pass attempts and wide receiver targets inside the red zone, and the Steelers boasted the 2nd highest percent of team touchdowns to receivers. Not only is Antonio Brown the most consistent receiver in the league, but he has as much upside as anyone at his position as well.
Round 2, Pick 10 - Alshon Jeffery, WR, Chicago
Draft Analyzer's top two recommendations were Mike Evans and Alshon Jeffery, wide receivers that are projected just one fantasy point apart. If I have to pick one wide receiver that's being drafted outside of the first round that has a shot to be the overall WR1, it's Jeffery. Alshon is coming off of consecutive top 10 PPR seasons, and is going into his first season as the clear primary target with Brandon Marshall gone and 1st round draft pick Kevin White starting the season on PUP. Chicago and Tampa Bay were both near the top of the league in percentage of team touchdowns to wide receivers last season, but the Bears' volume in the red zone was much higher than the Bucs. Evans will also be dealing with a rookie quarterback and be sharing targets with Vincent Jackson and Austin Seferian-Jenkins.
Round 3, Pick 3 - Lamar Miller, RB, Miami
The top two suggestions by Draft Analyzer at pick #27 were Frank Gore and Lamar Miller. Both picks are great options to anchor the running back position after starting with two stud wide receivers, but I actually like Lamar Miller's age and touchdown potential more. In 2014, Miami ranked in the top five in total plays, running back rushes and running back opportunities (rush attempts + targets) in both the red zone and inside the opponents 10 yard line. While the Colts had similar red zone volume, their percent of running back touches in the red zone and percent of team touchdowns by running backs ranked in the bottom five. Though these numbers could increase with Gore in the backfield, I'd rather take the player on the team that's already shown strong running back tendencies near the goal line.
Round 4, Pick 10 - Keenan Allen, WR, San Diego
Running backs dominated the top recommendations at this pick, with Draft Analyzer pointing to Joseph Randle, Todd Gurley, and Joique Bell. I have questions about all three of these backs, and in this format I want to dominate the wide receiver position. Allen was the top ranked wide receiver and is especially attractive as my WR3. The Chargers wideout had one of the great rookie receiver seasons in recent history, comparable to rookies like A.J. Green and Marques Colston. With Antonio Gates suspended and Philip Rivers under a new contract, Allen is a strong bounce back candidate coming off of a disappointing sophomore campaign.
Round 5, Pick 3 - Ameer Abdullah, RB, Detroit
Part of the reason that I felt comfortable passing on running back in the last round was because I saw Abdullah sitting behind the top three suggestions, and he is actually projected to score more fantasy points than Round 4's optimal selections. Over the last three seasons, there have been five instances of teams supporting two top-24 PPR backs. Two of those seasons came in Detroit. The Lions led the league in red zone targets to running backs last season, and they ran the 5th highest percentage of plays to running backs inside the opponents 10 yard line.
Round 6, Pick 10 - Allen Robinson, WR, Jacksonville
Doug Martin and LeGarrette Blount topped Draft Analyzer's optimal picks, but I had Allen Robinson targeted here and the other two teams drafting at the turn already had three running backs, so I was confident that one of the suggested backs would fall to me in the next round. In Weeks 2-10 last season, Robinson averaged 5.2 receptions on 8.7 targets and 12.6 PPR fantasy points per game, a pace that would have extrapolated to the PPR WR25 last year. New offensive coordinator, Greg Olson, has show a tendency to heavily favor his primary receiver, and Blake Bortles seeks out his receivers near the goal line. Last season, no team targeted their receivers on a higher percentage of red zone plays than the Jaguars. If they can increase their trips to the red zone, Robinson could be in for a monster season.
Round 7, Pick 3 - Doug Martin, RB, Tampa Bay
As expected, the running back options from Round 6 were still available after the turn. The fantasy community is down on Doug Martin after consecutive miserable seasons, but he is the favorite to do most of the backfield work in Tampa Bay this year. If any offensive coordinator is going to provide running back opportunity, it's Dirk Koetter. Over his play calling career, Koetter's backfields have averaged 28.7 touches and 25.2 PPR fantasy points per game. Even with sub-par running back talent in Atlanta, Koetter's backfields still ranked in the top 12 in PPR running back scoring each of the last three seasons.
Round 8, Pick 10 - Bishop Sankey, RB, Tennessee
This is the definition of being greedy while others are fearful. Without a solid running back stable, I'm OK with taking a flyer on Draft Analyzer's top recommendation. Sankey will battle David Cobb for touches, but the Titans spent significantly more draft capital on Sankey, so he should get the first crack at starter reps early in the season. Tennessee's offensive line is poor, but a mobile Marcus Mariota could open up things for the running game.
Mid-Draft Recap:
RB: Lamar Miller, Ameer Abdullah, Doug Martin, Bishop Sankey
WR: Antonio Brown, Alshon Jeffery, Keenan Allen, Allen Robinson
Round 9, Pick 3 - Eric Decker, WR, New York Jets
Despite my restriction on a tight end before the 10th Round, Draft Analyzer saw Delanie Walker as the clear top value, but I had Eric Decker as my target here, and he was the second ranked wide receiver on the board. There isn't a player that I will own more shares of in 2015 than Decker. Brandon Marshall and Eric Decker make up the perfect 1a, 1b wide receiver combo, but Decker is available four rounds later. Since 2012, 14 wide receiver teammates have finished a season as top 24 PPR receivers, and four of those instances included Decker and Marshall. Chan Gailey has shown that he can feature two prominent pass catchers as the focal point of his offense.
Round 10, Pick 10 - Darren Sproles, RB, Philadelphia
Ryan Tannehill was the optimal pick here, but quarterback is very deep this year, and every other team had already chosen a signal caller, so my options should be pretty open for a while. Although I like the potential of my running backs, it's a group that can very well fail altogether. There might not be another running back this late that can smooth out variance in a PPR league like Sproles, who had as many catches as Jamaal Charles last season. Chip Kelly has been emphatic this offseason that he wants to split up backfield touches more, and specifically target Sproles more in the passing game. The Eagles led the league in running back rush attempts and total running back opportunities inside the red zone last year, giving Sproles touchdown upside, as well.
Round 11, Pick 3 - Jason Witten, TE, Dallas
It's rare to find consistent tight end production this late in the draft, so it was easy to agree with Draft Analyzer on Witten. Despite declining production, Jason Witten was still 8th among tight ends in receptions in 2014 and Dallas should be more pass heavy this season. A dominant season by DeMarco Murray and exceptional game script resulted in an astronomical 553 touches by Dallas running backs last year. Natural regression should bring that number down. The Cowboys ranked 10th in percent of red zone targets to tight ends a year ago, meaning Witten's price might not account for increased scoring potential.
Round 12, Pick 10 - Ryan Tannehill, QB, Miami
Two rounds after being the optimal selection, Tannehill is still available, showing why it's important to keep track of other teams' rosters before blindly making draft decisions. The Dolphins ranked third in total red zone plays and fifth in red zone pass attempts last season, and Miami has significantly upgraded Tannehill's weapons. It's reasonable to assume that Miami will ramp up their passing attack in 2015, so Tannehill makes for a nice insurance policy on my early round running back, Lamar Miller.
Round 13, Pick 3 - Eddie Royal, WR, Chicago
Draft Analyzer will suggest a back up quarterback the rest of the way, but in this league size only one signal caller is necessary on draft day. Kevin White's injury might not be baked into Eddie Royal's price yet, so it's nice to get him while he's still very affordable. It might be hard to trust Adam Gase's play calling tendencies since he had Peyton Manning under center for two seasons, but Gase ran a pass-heavy system in Denver, and Chicago has recently favored the passing game, especially near the end zone. 84% of the Bears touchdowns in 2014 were accounted for by the quarterback, and Chicago receivers have ranked in the top 10 in percent of team touchdowns each of the last two seasons. Royal also serves as a handcuff to Alshon Jeffery, while still providing stand alone value.
Round 14, Pick 10 - Devin Funchess, WR, Carolina
Besides quarterback, Funchess was the top suggestion at pick #166. Kelvin Benjamin saw an absurd 145 targets in 2014, the highest for any rookie since Anquan Boldin, and the second most ever by a rookie wide receiver. Much of Benjamin's volume was due to the lack of a second wide receiver in Carolina, and Benjamin was woefully inefficient with his targets (50.3% catch rate, 7 yards per target). Since I expect Benjamin's target numbers to decline in 2015, it's fair to expect Funchess to see a decent amount of vloume in his rookie year.
Round 15, Pick 3  - Lance Dunbar, RB, Dallas
I'm not a Joseph Randle believer, and even if Randle does pan out, he's not a premier pass catcher. That's where Dunbar comes in. Dunbar out-snapped Randle 140-94 last season and caught 14 more balls than Randle. Dunbar is a lottery ticket at best, but if a pass catcher emerges from this backfield, my money is on Lance Dunbar.
Round 16, PIck 10 - Colts Team Defense
Since I'm planning on streaming my team defense, I just want a good Week 1 match up. The ideal streamer is a heavy home favorite, but the Colts on the road as 3 point favorites against the Bills lowly offense is a fine pick.
Final Roster:
Quarteback: Ryan Tannehill
Running Back: Lamar Miller, Ameer Abdullah, Doug Martin, Bishop Sankey, Darren Sproles, Lance Dunbar
Wide Receiver: Antonio Brown, Alshon Jeffery, Keenan Allen, Allen Robinson, Eric Decker, Eddie Royal, Devin Funchess
Tight End: Jason Witten
Team Defense: Colts
Given my early round strategy, I'm very pleased with my depth and upside at the skill positions. If any of my mid round running backs break out, this can be a dominant roster. There is enough depth in the player pool that I can stream quarterback, tight end and defense when needed, and I didn't spend enough on any of those positions to make me hesitant to do so. Because I didn't draft a backup quarterback, my total projected points rank second, but I have the best projected starting lineup by a comfortable margin.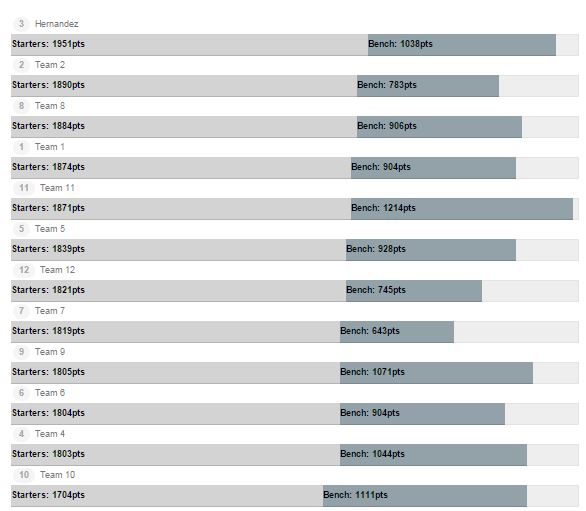 We are your friend's secret weapon.
Get 4 FREE downloads
Receive breaking news alerts & analysis
BONUS: Learn how to play DFS.
Battle-Tested by 40,000+ fantasy football diehards since 1999.