IDP Rankings Breakdown - Defensive Line
The goal of these articles is to put a little bit of context to the rankings and provide a bit more than just number value to the defenders.
I will take the IDP rankings and give them a tier grouping, so you can be on the right side of an IDP run or know you're drafting a similar defender without having to feel you've lost out on value.
While the defensive line still remains one of the most volatile positions in IDP, it's becoming more important to address the position earlier to grab one of the elite pass rushers. I still recommend grabbing one or two LBs before looking to the DL, however, if you miss on JJ Watt, there are plenty of other options to consider.
I like to target 4-3 edge rushers above all else. They typically lineup outside, and the interior linemen tend to take up space so the ends can use their speed to get to the QB.
Here are the NFL teams that are projected to run a 4-3 defense this year:
AFC
Miami Dolphins
New England Patriots (however, they do mix things up from a 4-3 to 3-4)
Cincinnati Bengals
Indianapolis Colts
Jacksonville Jaguars
Oakland Raiders (they also run a hybrid defense)
NFC
Dallas Cowboys
New York Giants
Detroit Lions
Minnesota Vikings
Atlanta Falcons
Carolina Panthers
Tampa Bay Buccaneers
Seattle Seahawks
St. Louis Rams
That's 15 teams and 30 edge rushers to consider. Chicago and Denver have changed up schemes, and Buffalo will be running more 3-4 looks.
If your scoring system favors sacks and bigger plays, you might need to address the DL earlier than your LB due to positional scarcity.
These rankings/tiers are based off a balanced scoring system, so keep your own league's scoring system in mind (I can't stress that enough). With that said, I offer my rankings in a tier-format for explanation.
JJ Watt Tier

Yes, he's that dominate he gets his own tier. Remember Randy Moss from 2007? That's how dominate Watt was in 2014. Over the last three seasons, he's averaged nearly 80 tackles/17 sacks/four forced fumbles/11 defended passes. He also added offensive scores to his arsenal.
Now, keep in mind you're drafting Watt for what he can do this year. His stats last year don't carry over. I do think he's in a class above the rest and keep in mind your scoring system in terms of where you draft him. In mixed leagues, you're looking at a 2nd-4th round pick.
Tier 1A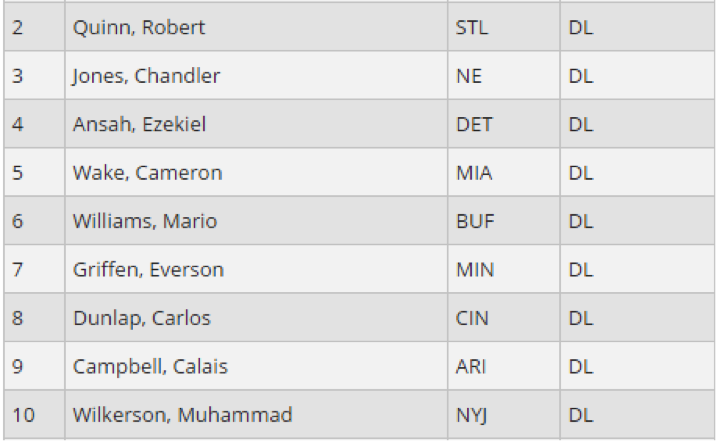 Now this is the tier where I'd try to load up if you don't want to pay Watt's high price tag. This group has produced 10+ sacks and are weekly starters for your squad. I've taken Jason Pierre-Paul out of this group, just because of the uncertainty around his injury.
There is the possibility that Greg Hardy makes his way into this group with the reduction of his suspension. The Patriots look to implement more 4-3 looks, so Chandler Jones's upside is huge this year.
I've placed Mario Williams into this tier thanks to his position change. Williams is already generating pressure in limited snaps, so his upside is huge in Rex's system this year.
The guy I'm targeting here is Cameron Wake. Ndamukong Suh is going to command a lot of attention, leaving Wake plenty of one-on-one chances. Last season, Wake recorded a QB pressure on over 14% of his pass rush snaps, leading to 11.5 sacks. Wake should hit 10+ sacks in 2015.
Another player to keep an eye on is Khalil Mack. As of now, he's still an LB but is playing more on the line. If his LB designation changes to DL, he's in this tier.
Tier 1B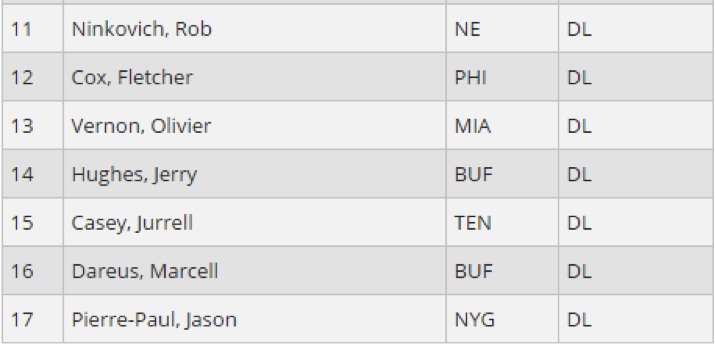 These are the borderline DL1s with upside. The DL spot has such variance that you can build your team around a combination of Tier 1A/1B and be just fine. Dareus, even in a 3-4, should be able to produce, but I do look at him as more of a DL2. Now, if you play in a league where defensive tackles are required, he's a DT1.
I'm also targeting Olivier Vernon and Jerry Hughes from this group. Vernon should see single coverage from opposing offensive lines, as they'll be focusing on Wake and Ndamukong Suh.
Tier 2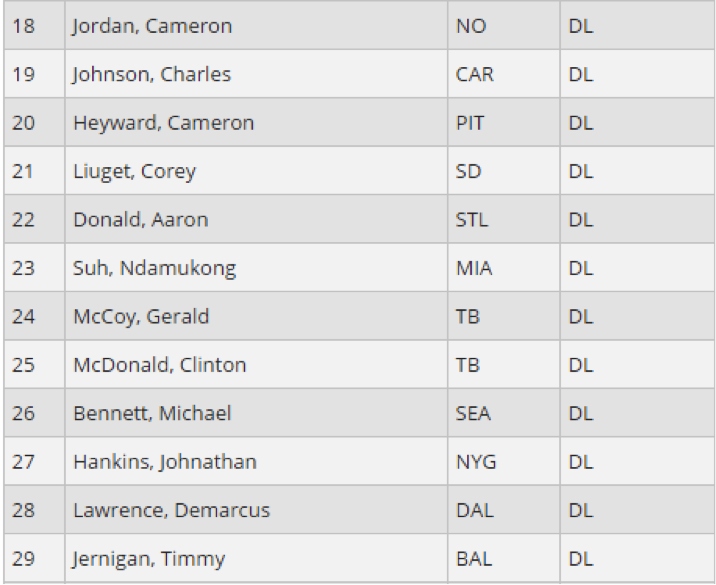 This is a group of DL2 that should be complimentary to your line. Vic Beasley is the first rookie to appear in the tiers and carries huge upside in Dan Quinn's defense. There are two guys I'm targeting specifically from this tier: Timmy Jernigan and Demarcus Lawrence.
The defensive tackles within this tier are rosterable in deeper IDP leagues where defensive tackle isn't its own position but are capable of producing tackles and sacks.
Tier 3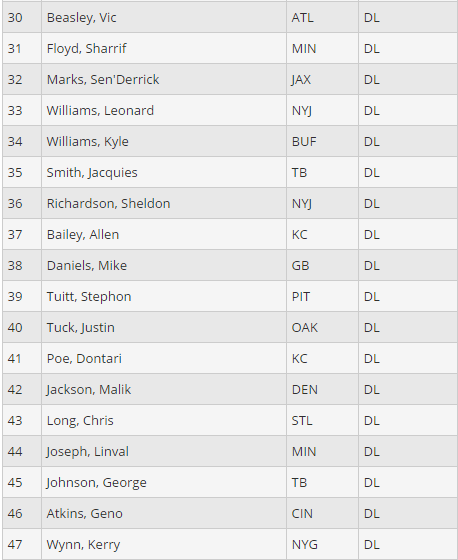 If you've waited on the DL position and are picking from this tier, you might as well stream the position. These are your DL3/4, and you're looking at hitting on breakout potential.
I do like Vic Beasley, Jacquies Smith, Allen Bailey, George Johnson, Stephon Tuitt and Malik Jackson out of this group. They can be targeted later in the draft and carry the upside to record five to eight sacks this year. Rookie Leonard Williams has also impressed, earning a spot in this tier.
Chris Long is being undervalued and has a good chance at a bounce-back year after a disappointing and injury filled 2014.
Tier 4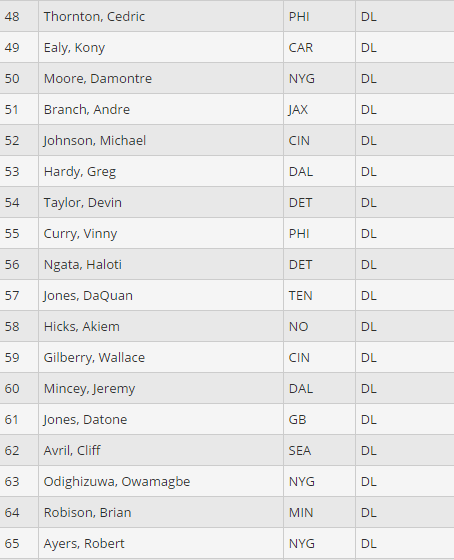 The defensive linemen from this tier will be waiver wire material to keep an eye on throughout the season. Unless you play in deeper leagues or all-IDP leagues, they won't be worth drafting. However, there is upside for streaming with players like Vinny Curry, Greg Hardy, Michael Johnson, Owamagbe Odighizuwa and DaQuan Jones.
Target Hardy here if your league ignores him and stash him on your bench. 2014 was a lost season, but between 2012 and 2013 he averaged 14 sacks and recorded QB pressures on over 14% of his blitzes in that span.
I also like Odighizuwa (props if you can pronounce it) in dynasty leagues.
Follow me on Twitter @Mike_Woellert to talk all things IDP this season.
We are your friend's secret weapon.
Get 4 FREE downloads
Receive breaking news alerts & analysis
BONUS: Learn how to play DFS.
Battle-Tested by 40,000+ fantasy football diehards since 1999.