Fanduel NFL Week 1 Pricing Preview
Fanduel
is early to the party with their Week 1 salaries -- like,
I'll probably be completely wasted before the rest of my friends even get here
 early. It's weird having NFL salaries out when we haven't even slept through the Hall of Fame Game, or had our first depth-chart-altering skill position ACL tear in camp (knock on wood). Nevertheless, by dropping Week 1 salaries in mid-July,
FanDuel
gives NFL DFS degenerates everywhere a reason to talk football!
Quarterback
Before Nick Foles and Mark Sanchez landed in Chip Kelly's scheme in 2013 and 2014, respectively, the two passers combined for 56 percent completion rate, 6.5 yards per attempt, and 3.5 percent touchdown rate in their pre-Kelly careers. Under Kelly, those numbers shot up to a 63 percent completion rate, 8.0 yards per attempt, and a 5.7 percent touchdown rate. Whoever starts in Week 1 should be a great value play in a game which currently has the slate's largest over/under total (53.5).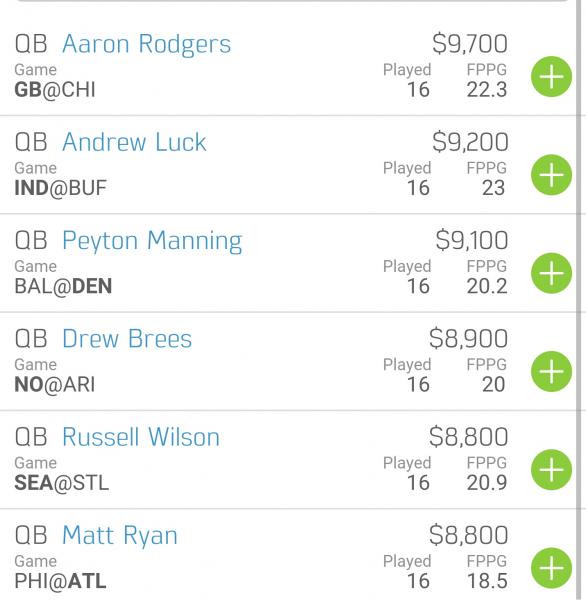 Other Quarterback Notes
Aaron Rodgers, Andrew Luck, and Peyton Manning all cost $9,000 or more. In 2014, quarterbacks priced $9,000-plus hit 2x value1 62 percent of the time, compared to 56 percent for quarterbacks under $9,000. Luck, Manning, and Rodgers hit 2x value in a combined 32 of 48 games last season (66 percent).
Matthew Stafford's opening price of $7,800 is the same as it ended in Week 17 last season. Before that, his price hasn't been lower since Week 1 of 2011. However, he only hit 2x value in 50 percent of his games last season, and 46 percent of his games with Calvin Johnson.
Jay Cutler's average salary from Weeks 1-15 last season was $8,257, but dropped to $7,500 for the final week of the season after a Week 16 benching. Despite his salary being under $8,000 only twice all year, Cutler hit 2x value in 66 percent of his games and can still be had at a discount. Bears-Packers is one of three games that currently has an over/under of at least 50.
Running Back
Randle is a 5-point home favorite in a game that Vegas expects the Cowboys to score 28 points. Dallas returns its stellar offensive line, which allowed Cowboys running backs to pile up 354 more rushing yards than any team in the league last season. If Randle emerges as the Cowboys' lead back, he'll be in a great situation to return Week 1 value.

Other Running Back Notes
C.J. Anderson's price ($8,400) is $100 higher than it was to close out last season, but he has plenty of room to return value. In 7 starts, he eclipsed 20 FanDuel points 5 times.
Marshawn Lynch ($8,600) opens the season on the road, where he returned only 1.64x value in 2014, compared to 2.46x at home.
Jeremy Hill's price peaked at $7,400 last season, but starts this season off at $8,600. He would need 17.2 FanDuel points to hit vlaue at this price point. From Weeks 9-17, Hill averaged 15.6 FanDuel points per game. He reached 17.2 FanDuel points three times last season, with a fourth game checking in at 17. If you count the 17 as hitting 2x value, his 44 percent rate of hitting 2x value in nine starts is the same as the league average for running backs in the $8,500-$8,900 price range.
Wide Receiver
Beckham Jr. averaged 25.5 FanDuel points in 2 games against Dallas least season and didn't go under 90 receiving yards in any of his last 9 games. He eclipsed 25 FanDuel points in 33 percent of his games, more than similarly-priced wide recievers Jordy Nelson (25 percent), Julio Jones (20 percent), Demaryius Thomas (19 percent), and Dez Bryant (13 percent).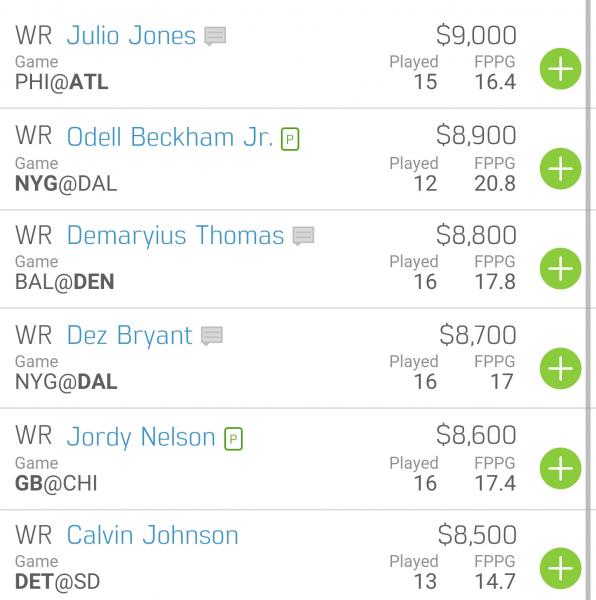 Other Wide Receiver Notes
T.Y. Hilton's price from Week 11 on was between $8,500-$8,800, but he starts the season at a discounted $7,800. He would need 15.6 FanDuel points -- a mark he hit 25 percent of the time in 2014 -- to hit 2x value. Wide receivers in the $7,500-$7,900 price range hit 2x value 30 percent of the time last season.
Kelvin Benjamin hit 2x value in 7 of 9 games when priced under $7,000, but did not even hit 2x once in the 7 games that he was priced $7,000 or more. He opens the season at $7,500.
Brandin Cooks closed last season at $6,800 but opens the season at $7,400, which is fair considering the Saints will need to replace over 300 lost targets from a season ago and still have Drew Brees at quarterback.
There is a massive price difference between Amari Cooper ($7,100) and the rest of the rookie wide receivers: Breshad Perriman, Kevin White, and Nelson Agholor all cost $5,500, DeVante Parker costs $5,400, and Phillip Dorsett costs $4,600.
Of the aforementioned rookie wide receivers, Agholor looks to have the best chance at returning Week 1 value. I already mentioned the effect of Chip Kelly's scheme, and in addition he's stepping into a role in which Jeremy Maclin amassed over 1,300 receiving yards last season. Further strengthening his case is the fact that Eagles-Falcons currently has the highest Vegas over/under total (53.5). 
Tight End
Peyton Manning's tight end for $5,500 in a game with the slate's second/highest over/under? Sign me up. With the departures of Julius Thomas and Wes Welker, the Broncos lost 126 targets from last season, mostly from the underneath and middle area of the field where Daniels does his work. Red zone targets are highly correlated to fantasy success for tight ends, and over his three-year career in Denver, Manning's tight ends have averaged 1.45 red zone targets per game and a 39 percent red zone touchdown rate (the league average rate over that span is 24 percent).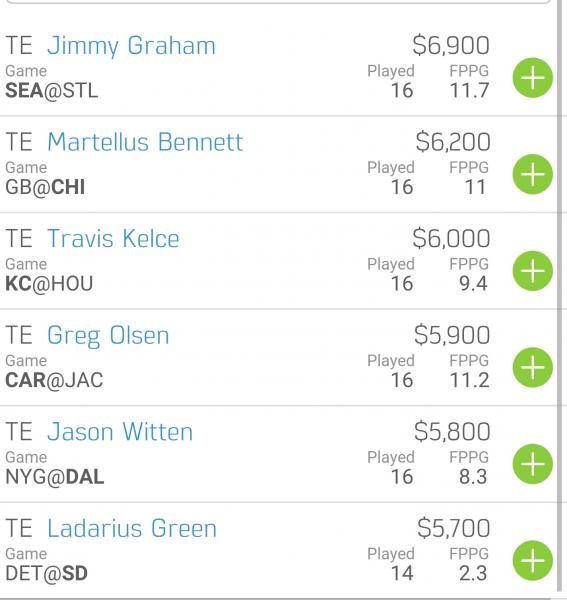 Other Tight End Notes
Jimmy Graham's price has only been under $7,000 twice in the last 2 seasons. Drew Brees and Russell Wilson have the same red zone touchdown rate over the past 3 seasons -- 29 percent -- but over that span the Saints have passed 60 percent of the time in the red zone while the Seahawks have only passed 42 percent of the time. If the Seahawks open up their red zone offense, Graham could be a bargain.
Greg Olsen closed last season at $6,400, but opens at $5,900 and would need 11.8 FanDuel points -- a mark which he reached 50 percent of the time in 2014 -- to reach 2x value. Tight ends in the $5,500-$5,900 price range only hit value 26 percent of the time last season, so Olsen could be a steal.
Travis Kelce hit 2x value 7 times last season, but they all came when he was priced under $5,500. He averaged a pitiful 0.79x value in 5 games where he was priced at $5,500 or more. He opens the season at $6,000, as it seems that a projected uptick in percentage of snaps played from last season's 67 percent is already priced into his salary.
---
1 Value = [ FanDuel Points / (Salary / 1,000) ]
We are your friend's secret weapon.
Get 4 FREE downloads
Receive breaking news alerts & analysis
BONUS: Learn how to play DFS.
Battle-Tested by 40,000+ fantasy football diehards since 1999.