DraftKings Week 4 Values and Top Plays
Want to know how I know I'm a loser? When I was in high school and someone said the word 'flex,' I would think about Arnold Schwarzenegger. Now, when someone says the word I think, "Standard or PPR?"
I wouldn't consider myself the definition of cool, but I feel like I have a really nice grasp on how to approach the flex spot on DraftKings, so I got that going for me, which is nice. When I wrote my book Fantasy Football and (Baseball) for Smart People, DraftKings hooked me up with a whole bunch of aggregate data on what's actually winning daily fantasy leagues.
A lot of that was very useful when dealing with the flex spot, including this data on the salary difference between the average flex player at each position and flex players in winning lineups.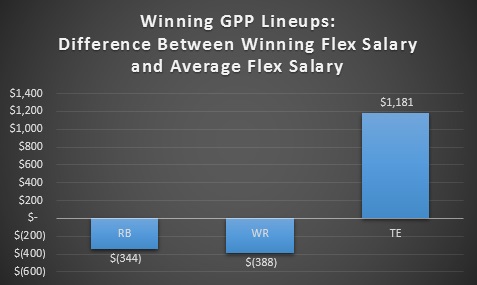 Overall, DraftKings users who have used a running back or wide receiver in the flex have benefited by going cheaper at the position. Hitting on a min-priced running back or wide receiver can be relatively easy if you're talking about a backup thrust into the starting lineup, for example.
The tight end position is rapidly changing, but it's still more difficult to find quality min-priced talent at the position. It really just comes down to usage. While players like Donald Brown, Matt Asiata, and even Justin Hunter have been min-priced (or close) and capable of regularly returning value (Hunter is valuable more in my mind than anywhere else, but I'm just going to pretend he's scoring on a weekly basis at this point), that's not the case for tight ends because their usage is so low.
That doesn't mean you can never find cheap tight end talent, but just that there's a huge difference between the elite tight ends like Jimmy Graham and Julius Thomas, who are basically wide receivers, and guys like Dwayne Allen or Ladarius Green—talented, yes, but just don't see the usage necessary to provide either a decent floor or ceiling.
You can do with this info whatever you'd like—I'm not entirely sure how to interpret it myself—but I definitely think you need to really consider upside (on the positional level) when dealing with the flex spot. The value for tight ends might be there on a $/point basis, but once you fall out of that top tier, you're relinquishing a high ceiling that is paramount for tournament success.
Editor's Note: You can get a free year of 4for4 by opening a new account and depositing at DraftKings. Details here.
Week 4 DraftKings Values
High-Priced QB: Aaron Rodgers, Green Bay at Chicago, $8200
Rodgers is the fourth-priciest quarterback on DraftKings this week, but he's a full $1100 behind Drew Brees and Andrew Luck. Brees is also very much in play in Dallas, but I'm somewhat scared about his away splits and the fact that Dallas has been running the ball quite a bit. Rodgers hasn't been stellar this year, either, but I'm willing to make the move to save $1100.
Also note the next five quarterbacks listed on DraftKings are all within $600 of Rodgers, so his rank in terms of salary makes him look more expensive than the actual price. That's why our DraftKings Value Report can be so useful; it's based solely on the numbers so you don't get fooled by player salary rankings.
4for4 Premium Content
There's more, but it's available only for 4for4 subscribers.
If you are a current subscriber, please login here
We are your friend's secret weapon.
Get 4 FREE downloads
Receive breaking news alerts & analysis
BONUS: Learn how to play DFS.
Battle-Tested by 40,000+ fantasy football diehards since 1999.