DraftKings Week 15 Values & Top Plays
There could potentially be some really outstanding values on DraftKings this week. Marquess Wilson at $3000 comes to mind with Brandon Marshall out. If Jamaal Charles were to sit out, Knile Davis (also min-priced) would become a must-start at running back.
I think the general consensus in the DFS community is that the sharper the pricing the better. I actually don't agree with that statement. While horribly inaccurate pricing is a problem because it increases randomness when a huge majority of the field is on a single player, the opposite—perfect pricing—increases luck as well because no one can gain a significant edge. I think where we really want pricing is in the "pretty accurate, but not perfect" area.
I realized earlier today that I haven't used my Paint skills this year, so here's an artistic representation of my thoughts on pricing and the range of skill.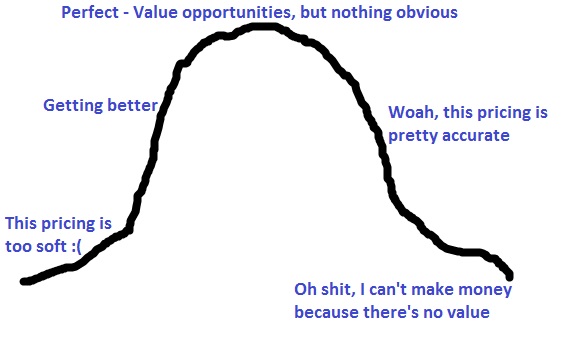 Ideally, we want pricing to be pretty accurate, but not perfect. Perfect pricing = no skill, at least in cash games where player usage isn't all that important. So when a player like Wilson is min-priced, it's a good thing because skilled players know to use him in cash games (even if that requires a modest amount of NFL knowledge), but there will be plenty of cash lineups without him. If he's truly the most valuable player in Week 15, which I believe is the case, putting him into your cash lineups, even though it's an "obvious" move, is going to give you a leg up on maybe half of a 50/50 field, for example, that you couldn't otherwise generate if his pricing were more accurate.
Editor's Note: You can get a free year of 4for4 by opening a new account and depositing at DraftKings. Details here.
DraftKings Week 15 Value Plays
High QB: Peyton Manning, Denver at San Diego, $8900
I actually have Manning as my top-projected quarterback in Week 15. I've sort of shifted course on him this week because, as I thought more about what's going on in Denver, I realized it's just very unlikely that C.J. Anderson continues to steal all of his touchdowns. I think you can make a serious argument for Andrew Luck at $9300, too, but Manning is my choice when I pay up for a quarterback this week.
Low QB: Philip Rivers, San Diego vs Denver, $6200
Rivers has struggled against quality pass defenses this year, but we have the Broncos rated as the fourth-worst against passers. I think most people are going to be on Johnny Manziel this week, but I'm going to pay just $300 more for a quarterback who I believe has serious upside. Whereas Manziel's ceiling is probably capped due to his likely lack of passing success, Rivers has 400-yard upside.
4for4 Premium Content
There's more, but it's available only for 4for4 subscribers.
If you are a current subscriber, please login here
We are your friend's secret weapon.
Get 4 FREE downloads
Receive breaking news alerts & analysis
BONUS: Learn how to play DFS.
Battle-Tested by 40,000+ fantasy football diehards since 1999.