DraftKings Week 1 Values & Top Plays
It's been a busy year for me. I updated the Fantasy Football for Smart People book series, which now includes nine books—holy crap, how did that happen?—the latest of which is centered around interviews with professional daily fantasy football players.
I knew I wanted to come back to write for 4for4 this year, though, even if in a more limited capacity. Chris Raybon will be in charge of the majority of the daily content this season, and as I'm sure you've seen so far, his stuff rocks. I'll complement his awesome work with a DraftKings-focused column each week.
The format of this is going to be pretty simple: evergreen advice followed by weekly plays (values and GPP options). In the first section, I'll discuss an overarching daily fantasy football topic that I think is relevant, hopefully giving you a nice long-term foundation on which to stand as a player by the end of the year.
The second part will be DraftKings values for that week, along with some analysis. Each position will be split up into two groups: expensive and cheap. I'll finish with some players who I think are good tournament options for that week.
Got it? Cool, let's go.
Note: You can get a free year of 4for4 by opening & depositing into a new DraftKings account. Details here.
Understanding Value
Last year, I talked a lot about the pros and cons of creating player values. Our Value Reports use a $/point system, which shows you the number of dollars you need to spend for each point you can expect from a player. There are other value systems out there, all of which pretty much do the same thing.
With $/point, the lower the number, the better. We're always searching for ways that we can reproduce production at a cheaper cost, which $/point allows us to do pretty quickly.
The most important thing to keep in mind when analyzing $/point values is that they're fragile, i.e. they're quite susceptible to fluctuation based on small projection changes. If you were to alter Calvin Johnson's projection by just 20 yards, for example, you'd see a pretty hefty swing in his $/point value.
Even though all of us at 4for4 are all basically fantasy football robots programmed to create projections and ward off attractive women, none of us are accurate enough that we can be certain that a player projected at $305/point is a better option than one at $310/point. That's akin to driving a truck that you think weighs 4,900 pounds over a bridge that can hold 5,000 pounds of weight. Will you die in a fiery death? Not if you're right. But….what if you're not? Also, I think I stole that analogy from Warren Buffett.
All of this means that you should be using the Value Reports not as though they're the word of God (Josh Moore), but rather as a basic template for uncovering value. You shouldn't blindly select the top players, but in general, it makes sense to stick near the top of the values.
Week 1 Values on DraftKings
High QB: Peyton Manning vs IND ($10100)
DraftKings is a site that typically prices the elite players pretty appropriately, but Manning is a hell of a bargain in Week 1. He comes out as the third-best value in the DraftKings Value Report, which is insane given his price tag. When a player who costs the most at his position is also one of the best values in the strict $/point sense, it's almost an automatic play.
Manning is such a good option in cash games that you might want to have 100 percent exposure to him there. He has such a high floor every week, and Denver is projected by Vegas to score 31.5 points. With an opponent formidable enough that we can expect Manning to throw the entire game, he's undoubtedly the best heads-up and 50/50 play this week.
Low QB: Shaun Hill vs MIN ($5000)
Unlike Manning, Hill probably isn't a great option in your cash games. You can gamble on him there if you'd like because he's going to give tons of flexibility elsewhere, but you should typically pay for the most consistent positions in cash games. Quarterback is the most predictable position on a week-to-week basis, so it's not generally wise to gamble when you can just take the sure thing with someone like Manning.
Hill is a GPP contender, but the only problem is that there's not really an obvious receiver on St. Louis to pair with him. There's a clear correlation between quarterback points and wide receiver points from week to week.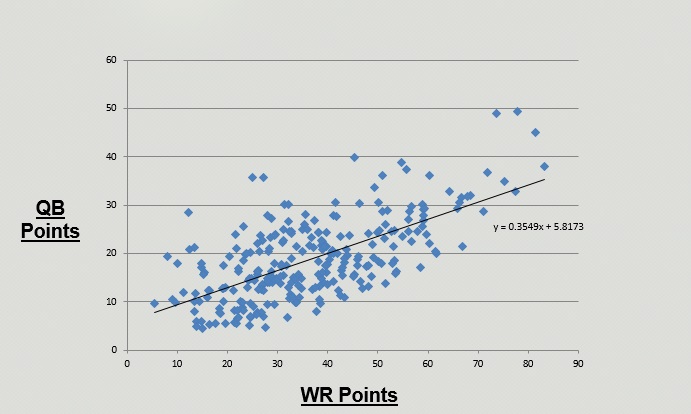 I kind of like the idea of stacking Hill with tight end Jared Cook and then just going big everywhere else, but that's admittedly a sizeable risk. This might be a rare situation when it makes sense to not pair your quarterback with one of his receivers, even in a GPP.
4for4 Premium Content
There's more, but it's available only for 4for4 subscribers.
If you are a current subscriber, please login here
We are your friend's secret weapon.
Get 4 FREE downloads
Receive breaking news alerts & analysis
BONUS: Learn how to play DFS.
Battle-Tested by 40,000+ fantasy football diehards since 1999.