Week 8 FanDuel Optimal Plays
They say the definition of insanity is doing the same thing again and again and expecting different results. That's not actually the definition of insanity, but whatever, let's roll with it.
They also say there's a fine line between genius and madness. I think I'm walking that line right now, and I have a strong hunch that, instead of being brilliant, I'm insane. A lunatic. A nut.
Because I will indeed be doing the same thing this week that I've done almost all season—starting Eli Manning in my fantasy leagues—and expecting a different result.
I really don't like Eli at all. I hate the way he licks his hands. I hate the way he tilts his head all the time. I hate that he looks like Eeyore.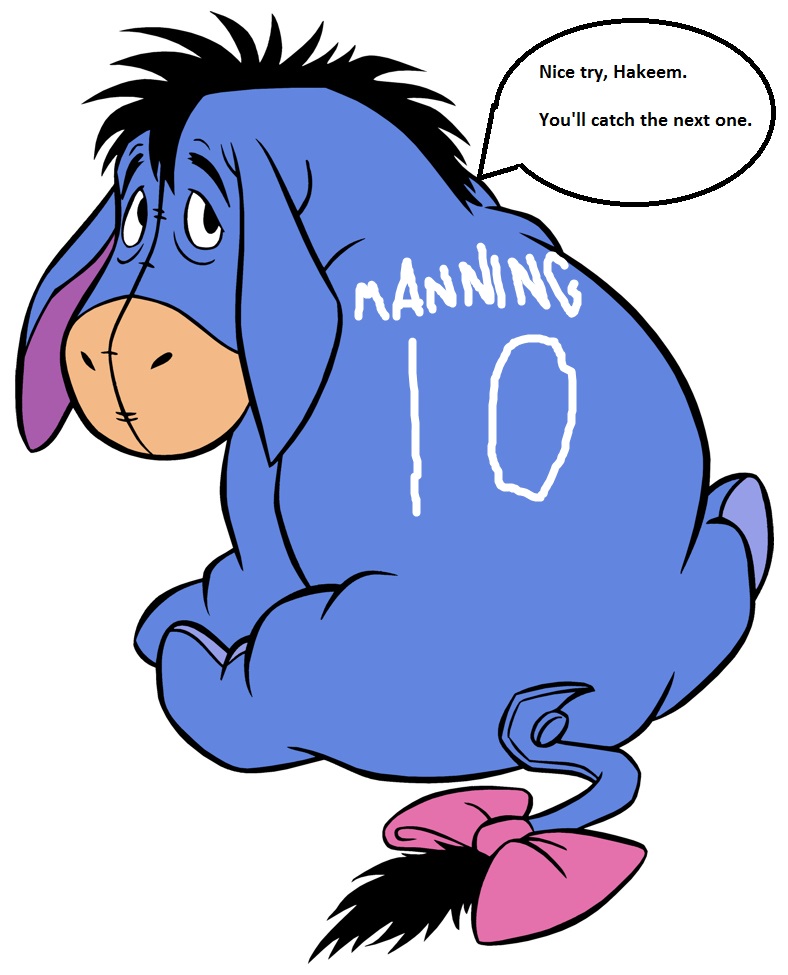 That didn't even take me 10 minutes to create in Paint. Nbd. Donkeys talk out of their shoulders, by the way.
But despite Manning's paradoxical ability to be likeable and hated at the same time, I'm going to be all over him again this week. So I ask, please, will you all join me in placing an exorbitant amount of your bankroll in Eli Manning until he severely cuts into our profitability and eventually bankrupts all of us? It should be a fun ride.
Week 8 FanDuel Values
QB Eli Manning @PHI $6800
In all seriousness, I think fantasy owners need to be willing to buy into guys who have burned them in the past. If you haven't had Manning on any teams this year and you look at his salary and matchup in Week 8, you'll probably be more likely to recognize he offers value than someone who had him in their lineups over the past month.
But that's the beauty of daily fantasy football; we get a new go at it each week, so your past choices shouldn't affect your current ones. If you think Manning offers a high ceiling-to-price ratio, which he does, you need to be willing to pull the trigger even if he's killed you in the past.
As a side note, don't play Manning in Thursday leagues. The reason is that I think we should monitor the weather in Philly on Sunday morning before putting him into lineups. Namely, if it's excessively windy, don't start him. As much as people think rain and snow hurts the passing game, it's wind that really kills it. The Eagles' stadium has the ability to turn into a wind tunnel, so make sure everything is calm on that front before plugging him in.
RB Jamaal Charles vs. CLE $9600
I think Charles is pretty much a must-start in every league type. He has a ridiculously high ceiling to accompany the ever-growing floor that Andy Reid's arrival has provided him.
WR Dez Bryant @DET $8800
I'll go on record as saying that I think Bryant will outperform Calvin Johnson this week. The Cowboys are going to use cornerback Brandon Carr to shadow Megatron. While he's not Darrelle Revis, Carr is still allowing just 1.01 yards per route that he's in coverage, and the fact that Johnson won't be matched up with a struggling Morris Claiborne will hurt him a bit.
Meanwhile, who's going to stop Bryant? All of the Lions' cornerbacks are playing mediocre at best, with Chris Houston really struggling. Even with safety help, Bryant is one of the safest top-tier plays this week. He's $400 less than Johnson on FanDuel.
TE Tony Gonzalez @ ARI $5600
A lot has been made of Arizona's struggles against the tight end this year. It hurts Gonzalez that the Falcons have lost a lot of their offensive firepower, but it's difficult to double-team a tight end in the same way as, say, an 'X' receiver. Gonzalez is also just the eighth-priciest tight end on FanDuel—$700 cheaper than Heath Miller.
FanDuel Week 8 Optimal Lineups
4for4 Premium Content
There's more, but it's available only for 4for4 subscribers.
If you are a current subscriber, please login here