Staking Bales: Recapping My Week 4 in Daily Fantasy Football
It was almost a big one. Heading into Monday night's Saints-Dolphins matchup, I was set for some big cashes in a few different daily fantasy tournaments, most notably StarStreet's Playboy Championship Qualifier. If you recall from last week, I won a $109 entry ticket into the tournament in Week 3. I was matched up against 149 other lineups, the winner receiving an all-expenses paid trip to the Playboy Mansion for StarStreet's $250K championship in December.
After the 1pm games, things were looking great. I was bullish on running backs Matt Forte and Jamaal Charles, as well as receivers Antonio Brown and Reggie Wayne—all of whom had quality games. I would go as far as to say I was the favorite about three hours into the week.
Despite awesome efforts from Wes Welker and Kenbrell Thompkins, I was in third place by the time the Monday night game rolled around. With no one left to play, the Playboy Mansion dream was dead, at least for this week, but it was still looking like fourth place and a $300 cash was realistic.
Then Drew Brees, Darren Sproles, and Jimmy Graham happened. I had some exposure to Sproles and Graham elsewhere, so they didn't completely ruin me, but their play caused me to eventually drop down to 8th out of 150.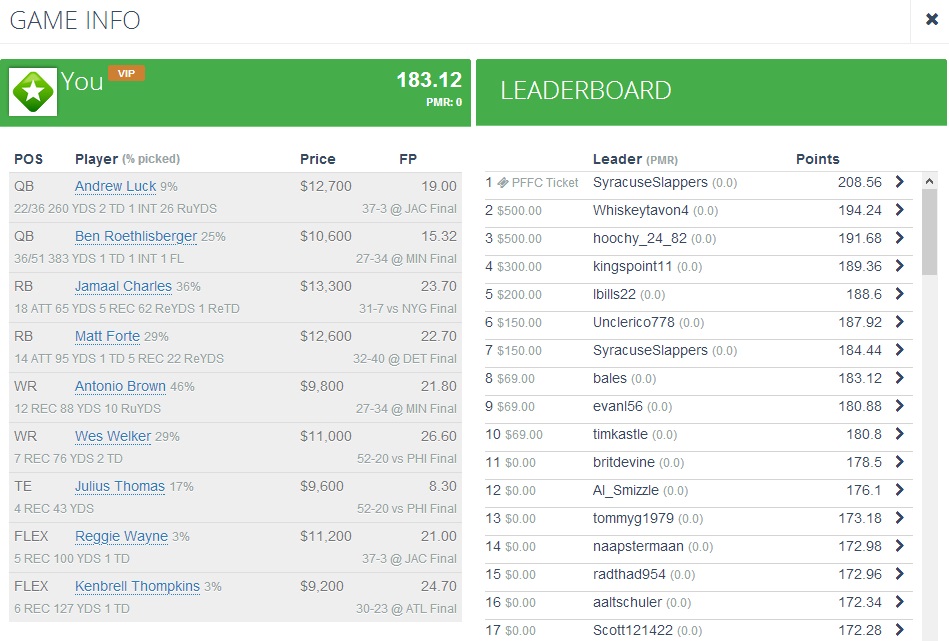 I won a $69 qualifying ticket for my effort, so I'll be doing the exact same thing in Week 5. I'm probably like 99 percent to take it down this time around.
Week 4 Profits
All in all, it wasn't a bad week. I was really close to profiting $500+, but that's the nature of the game sometimes. Here's how it all turned out.
Site

Start

Finish

Net

1012.70

1145.18

132.48

597.60

501.60

-96.00

StarStreet

457.93

420.56

-37.37

DraftDay

259.36

282.39

23.03

 
 
 

+22.14

 

StarStreet $69 Qualifier

+91.14
I had another huge week on FanDuel, profiting $132.48. Here's a screenshot of my matchups.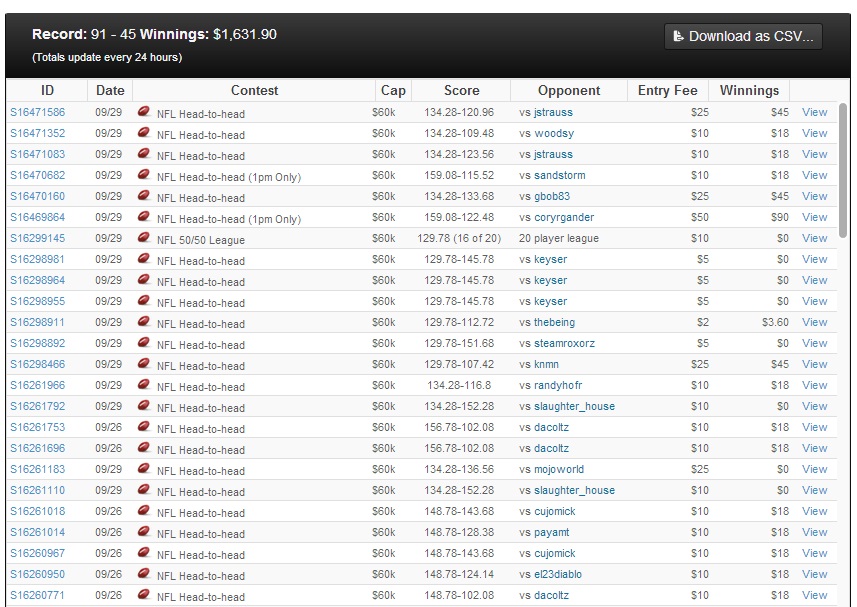 I ended up going 19-9 in my heads-up matches on FanDuel. I'm handpicking opponents based on their experience, so I'd expect to maintain a winning percentage in that range.
I profited at DraftDay for the first week, taking down 17 of my 18 heads-up matches.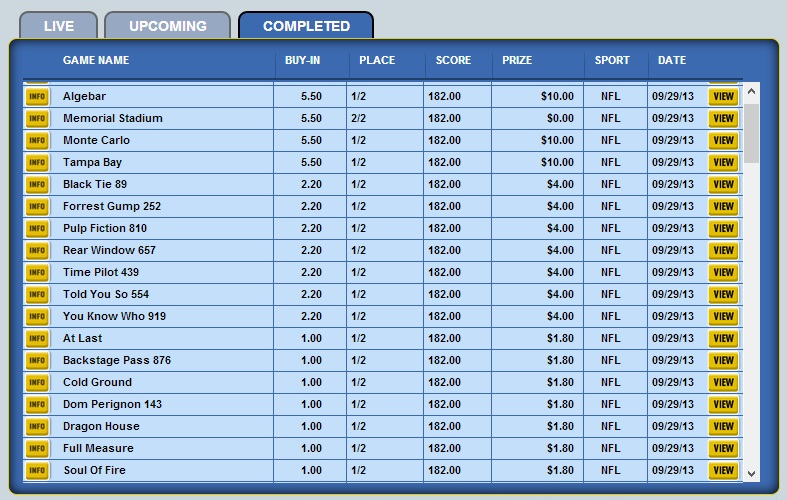 I actually had a 182-point lineup lose once, which is pretty rare at the stakes I'm playing.
Tracking My Progress
Looking back at Week 1, Week 2, and Week 3, here's how my bankroll has grown since the start of the season.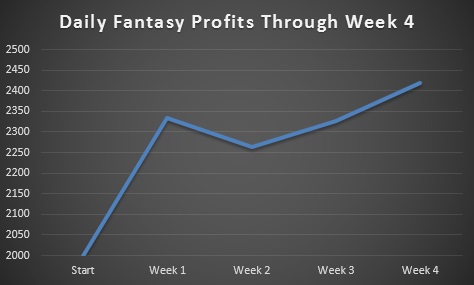 I've had one losing week out of four—a week in which I honestly should have lost more money but got "lucky" to almost break even. Given my lineups this week, though, I'd say I was quite unlucky to profit only $22.14, so things have evened out.
I've profited a total of $418.63 on the original $2K investment—20.9 percent. That's an awesome return through just a month of play, so I'm excited about where I'm at right now. I feel especially good about it since I have yet to score a major cash in any tournaments. I hope to change that in Week 5, but the steady profits indicate that I probably have an advantage over most players that can (hopefully) be exploited for long-term gains.
Get in the Game
If you still aren't playing daily fantasy football, you're out of your mind. No really, just full-blown crazy. 4for4 has all of the tools you need to be profitable at the daily fantasy sites.
The best package I can recommend is the 4for4 Value Reports + my daily fantasy football book. The book's title—Fantasy Football for Smart People: How to Cash in on the Future of the Game—says it all. Daily fantasy football is really the wave of the future, and I take you step-by-step through the things you need to know to become a long-term winner.
The value reports will provide you with deadly accurate projections and values each week, no matter where you plan to play daily fantasy. I calculate my own projections and values, and I can tell you without any doubt that 4for4's are the most accurate I've come across.
Both the book and value reports will pay for themselves within a matter of weeks. Pick 'em up, sign up for some daily sites, and let's go steal some more money.