Daily Fantasy: Week 4 DraftDay Optimal Plays
In my "Staking Bales" series, I've turned $2k into $2,436.59 through three weeks. The only site at which I've lost a significant amount of money (relative to that small bankroll) is DraftDay. So why is that the case?
When assessing any potential daily fantasy site for profitability, we want to look at a few key factors. The first is obviously the type of players who are there. Are there fish? Can I consistently beat DraftDay's users? And I think the answer, as a whole, is yes. It's not that I'm Sportstradamus, but just that there are enough newbies playing at DraftDay that I probably have an advantage.
The second is potential inefficiencies in salaries and lineups that can be exploited. Again, I think DraftDay has both of those. They have relatively inaccurate pricing, although it's strong enough that there aren't any painfully obvious player combinations each week. The fish will still choose sub-optimal players, so there's plenty of room to outplay them.
There's also a flex position at DraftDay, which is awesome. I think the flex spot is the No. 1 area where you can acquire an advantage over other players because there are so many different options. Since DraftDay is a full PPR site, the best values are almost always wide receivers. But fish typically side with running backs.
Even if your flex doesn't consistently beat others, it does something else; it creates flexibility. If you're playing a moderately priced receiver in your flex, he'll at least come close to producing at the level of a second-tier back, but he'll also allow for more wiggle room at the other positions. Going with a value receiver in the flex allows for that Drew Brees-Adrian Peterson-Jimmy Graham combination to be a reality.
Finally, we need to determine if the salary cap is stiff enough that you can't just fill your lineup with studs. This is probably my main issue with DraftDay—they have a very soft cap—so there's not much incentive to find bargains. That works to the advantage of the fish. Still, I think the cap can be overcome by exploiting the other inefficiencies.
Let's get to this week's optimal DraftDay plays. . .
Value Plays
QB Joe Flacco @BUF $10800
The Ravens-Bills line opened at BAL -6, but it's already shifted from between BAL -3 to a straight pick 'em. That's ridiculous movement that suggests there's a whole lot of money on Buffalo to either cover or win outright. Either way, this game should be close, meaning Baltimore will have an incentive to throw the entire game.
For whatever reason, Flacco is the 26th-highest quarterback on DraftDay. I'm not really a fan of his, but that's a steal for a quarterback who could throw the ball 40 times against the Bills. Don't forget that Buffalo's fast-paced offense leads to more total plays for both teams, not just them.
RB Maurice Jones-Drew vs. IND $9350
MJD has only the 25th-highest running back salary on DraftDay, yet he's actually ranked in the top 15 in PPR points per game. He has a favorable matchup against the Colts—a team against whom Jones-Drew could see a lot of targets out of the backfield. His surrounding situation is never going to be ideal, but in terms of expected production versus price, he's valuable. He costs less than Bilal Powell, Marcel Reece, and Montee Ball.
WR Eric Decker vs. PHI $9750
I was more bullish on Decker than any other receiver in Week 3, and it paid off. I think people are scared off by Decker because he's the third option in Denver, but it doesn't really matter. His ceiling is as high as just about anyone because any receiver playing with Peyton Manning is a threat for a 8-150-2 sort of game.
Decker is a big-bodied receiver who has proven to be unbelievably efficient in the red zone, dating back to his time at Minnesota. That gives him a relatively high floor, because he can save a three-catch game with a touchdown.
TE Jason Witten $10450
Witten has been quietly inefficient over the past few seasons.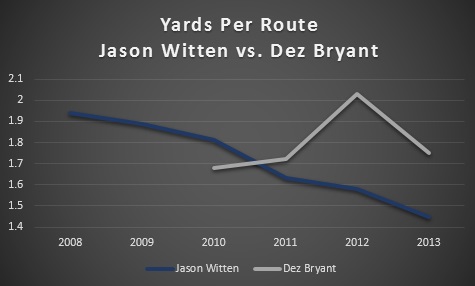 But it doesn't matter all that much if Tony Romo keeps throwing him the ball, which he will. And it especially doesn't matter on PPR sites. With an elite matchup in San Diego this week in a game that could become a shootout, Witten has 10-catch potential.
Optimal DraftDay Lineups
4for4 Premium Content
There's more, but it's available only for 4for4 subscribers.
If you are a current subscriber, please login here