Staking Bales: Recapping a Forgettable Week 2
I have good news and I have bad news. Which do you want to hear first? Oh right, you can't answer. I'll give you the bad news.
I had a horrible Week 2. Just atrocious. I looked back on my past game data, and this was one of the worst head-to-head weeks I've ever had. I got destroyed on most sites after winning 62.8 percent of my heads-up matches in Week 1. Could it have been due to my unjustified bullishness on Chad Henne? Yeah, yeah I think it could.
So that's the bad news. The good news is I'm not a complete moron, or at least you guys don't know that I'm a complete moron just yet, because I properly managed my money to absorb the blow. If you recall, I profited $334.48 in Week 1 off of our initial $2,000 investment—a nice increase of 16.7 percent without winning any tournaments.
Here's how Week 2 turned out. . .
| | | | |
| --- | --- | --- | --- |
| Site | Start | Finish | Net |
| | 747.44 | 818.96 | 71.52 |
| | 768 | 660.2 | -107.8 |
| StarStreet | 438.9 | 509.13 | 70.23 |
| DraftDay | 380.14 | 275.84 | -104.3 |
|   |   |   | -70.35 |
Trust me when I say that, given my head-to-head lineups this week, this is a positive. I profited at both FanDuel and StarStreet—the second week in a row that I made money at both places—and lost right around the same amount at the other two sites. The $70.35 loss represents just 3.0 percent of my bankroll prior to the week.
Here's how I finished in terms of heads-up winning percentage on each site. . .
| | |
| --- | --- |
| Site | H2H Winning % |
| FanDuel | 34.4 |
| DraftKings | 51.5 |
| StarStreet | 90.7 |
| DraftDay | 33.3 |
|   | 58.9 |
Okay, so it wasn't that bad. But the majority of the wins came in small-stakes leagues, whereas I lost most of those at higher prices. I've done some research and I actually don't think there's much of a difference in the competition for very low-entry leagues (a couple bucks or less) and medium-stakes ($25 or less). I just got unlucky with the distribution this week.
But that's something that happens. No matter how good you are, you'll get unlucky. I actually thought my overall Week 2 projections were slightly superior to Week 1, but I chose some poor players and lineup combinations.
It happens. You need to be able to sustain those losses. While I'm never "glad" to lose money, I'm glad that I had a pretty poor week and still managed to remain profitable for the season.
Actually, it would have been much worse, but I won a nice tournament prize at FanDuel.

Just a few points more and we would be talking about a serious score, but that's the nature of tournaments.
Overall, here's the accounting through Week 2. . .
| | | | |
| --- | --- | --- | --- |
| Site | Start | Finish | Net |
| FanDuel | 600 | 818.96 | 218.96 |
| DraftKings | 600 | 660.2 | 60.2 |
| StarStreet | 400 | 509.13 | 109.13 |
| DraftDay | 400 | 275.84 | -124.16 |
|   |   |   | 264.13 |
I'm up on three of the four sites, profiting $264.13 on the year—13.2 percent of the original bankroll. That's with a really poor week in regards to heads-up profits and just one moderate tournament cash, so I have to be happy about that.
Making Some Changes
Moving forward, there are a couple changes I'll be making. First, I'm probably going to diversify my lineups just a bit more. I've typically been playing just two heads-up lineups on each site, placing around 15-20 percent of my bankroll (on that site) on the optimal lineup and 10 percent on the No. 2 lineup.
There's not a significant amount of risk in doing that, as you can see from this week's results, but I really like the potential profitability of tournaments this year. We all know there are more fish than ever on these daily sites, but they don't seem to be playing heads-up contests. I continually find myself matched up with sharks, so that's not good for anyone. To get more action against the fish, I probably need to enter leagues with more entrants.
Second, I haven't turned on the opponent blocker on any sites, but I'm going to start. I actually had a decent week on DraftDay in terms of points, scoring 149.0 with my optimal lineup. That's not outstanding, but it should win more than the 33.3 percent of leagues that I actually won.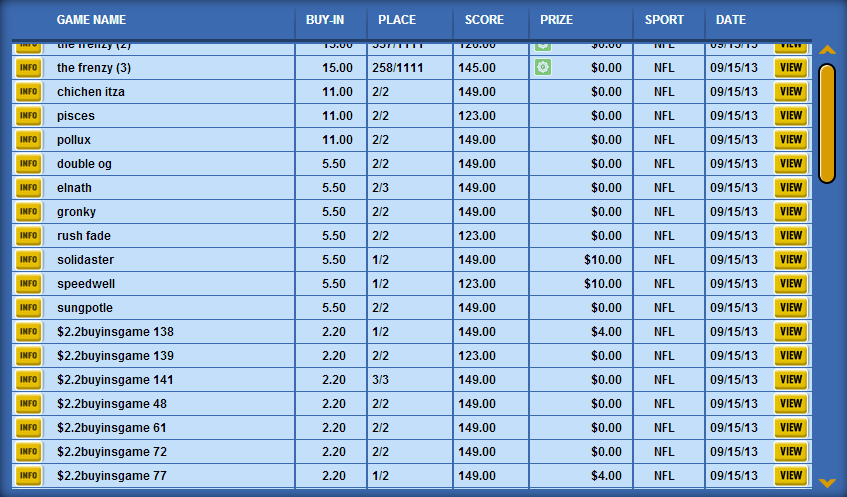 However, I got matched up with the same shark in most of the leagues, and he took me down. If you're continually facing the same lineup in your head-to-head leagues, it takes away their safety. It also increases their upside since you can win a bunch of lineups at once as well, but I'm not really eager to take on that volatility in my heads-up leagues—the backbone of my potential profitability.