FanDuel Optimal Division Round Plays
When you're assessing player values, the most important question to ask yourself is whether or not what you know about a player is already factored into his salary. You can't just say, "Well, Marshawn Lynch has been awesome against Team X, so I'm going to roster him this week." It's still about a comparison of expected production to price, and if the information you have is already priced into a player's salary, it's effectively useless.
That's one of the reasons I tend to place a lot of emphasis on weather. Unless a game is being played in a dome, the daily sites have little idea what the game day playing conditions will be like at the time when they set player salaries.
And the weather matters.
In doing research for my new daily fantasy book, I found that both temperate and wind speed have a dramatic impact on passing stats. It seems like people typically pay attention to the temperature or chance of precipitation, but not many factor wind speed into their projections or lineup decisions.
But strong winds are perhaps the biggest obstacle a quarterback and his receivers need to overcome. Take a look at passing efficiency by wind speed.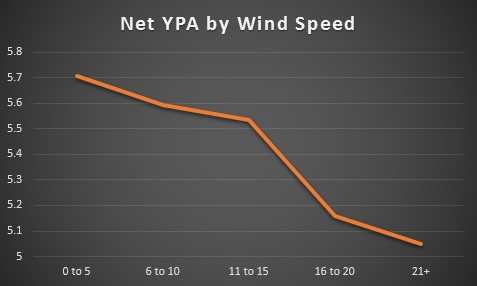 It seems like 15mph or so is the cutoff after which passing becomes a whole lot more difficult. It's not like you need to downgrade a player if the wind speed is 16mph but not if it's 15mph, but once you approach that point (and certainly at the 20mph mark), you need to start factoring it in. (We account for this weekly in the 4for4 Rankings & Projections)
It's not just the decline in efficiency that hurts. Coaches know that the wind affects passing efficiency, so they call fewer passes. The typical game with 21-plus mph winds has around five fewer passes than those games played with wind at 10mph or less.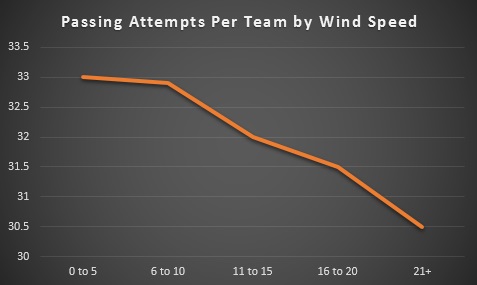 Wind speed is difficult to predict in advance, so it's something you need to monitor on game day rather than a couple of days ahead of time. Strong winds are what led me to take Josh Gordon out of all of my lineups an hour before kickoff during his Week 12 breakout, so I think I know what I'm talking about when it comes to weather.
Divisional Round FanDuel Values
QB Philip Rivers @DEN $8000
There are eight quarterbacks playing this weekend, so it's not like there are endless choices. I chose Rivers as the best value on DraftKings, too, and here's what I wrote:
Of the four games this weekend, SD-DEN probably has the most predictable game flow: the Broncos get up by 10 or so by the third quarter, allowing Rivers to make up for moderate efficiency with 40-plus passing attempts.
Denver's pass defense is about average, but Vegas has the total of this game above 55. The other option here is Andrew Luck, who costs $300 more and probably has a superior matchup. I'm just less confident that he racks up the passing attempts.
Perhaps more important, there's currently zero chance of precipitation or very cold weather in Denver this weekend, while there's a strong chance of rain and 20 mph winds for the Colts-Pats game.
Because FanDuel doesn't price their elite players as high as they should, though, Peyton Manning is definitely an option as well. He's probably a smart choice in heads-up leagues because you don't need to pay for one of his receivers to accompany him.
RB Shane Vereen vs. IND $6400
Vereen's value on DraftKings and FanDuel is an example of why you can't just blindly pick the sorts of players who "fit" with a scoring system. Many players will presumably favor Vereen on DraftKings because it's a full PPR site while FanDuel is just 0.5 PPR, but Vereen is cheaper on FanDuel.
He's not going to score as many points, obviously, but his reduction in salary more than makes up for it. On DraftKings, Vereen is just $1,000 cheaper than Marshawn Lynch and costs 87.5 percent as much. On FanDuel, Vereen is $2,600 cheaper and his salary represents only 71.1 percent of Lynch's. No-brainer.
WR Julian Edelman vs. IND $7200
I mentioned Edelman as a heads-up player to love because the nature of his game gives him a high floor. On the flip side, Keenan Allen is a much more volatile player (and one who can score consistently in the red zone), and thus better in tournaments.
Note that the wind speed in Foxboro this weekend could lead to more short passes, aiding both Vereen and Edelman.
TE Jimmy Graham @SEA $7500
I've probably chosen Graham as the top FanDuel tight end value on about 10 occasions this year. He's $1,000 more expensive than Vernon Davis (compared to $1,500 on DraftKings). Davis is still an option on FanDuel, but if you play on both sites, it means you can hedge and still acquire proper value by going with Davis on DraftKings and Graham on FanDuel.
FanDuel Optimal Lineups
4for4 Premium Content
There's more, but it's available only for 4for4 subscribers.
If you are a current subscriber, please login here
We are your friend's secret weapon.
Get 4 FREE downloads
Receive breaking news alerts & analysis
BONUS: Learn how to play DFS.
Battle-Tested by 40,000+ fantasy football diehards since 1999.