Wild Card Weekend FanDuel Value Plays
I emphasize the value of a contrarian approach in large-field leagues. I think that since values are typically so close—and thus fragile and susceptible to big swings from small changes—it makes sense to go against the grain to create a unique lineup. Your goal in a GPP shouldn't necessarily be to maximize projected points, but rather to maximize the probability that your lineup beats others (there's a difference).
In my newest book Fantasy Football (and Baseball) for Smart People: How to Turn Your Hobby into a Fortune, I found evidence that a contrarian tournament strategy actually works:
One of the strategies proposed in the chapter on tournament play is using a contrarian approach—purposely going against the grain in order to create a unique lineup. Up until now, it was just assumed that bypassing a few "obvious" values was optimal in tournaments. Now, the evidence is in.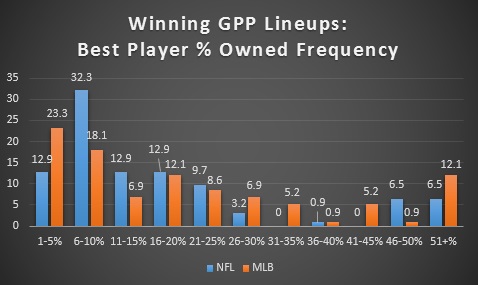 This graph shows the percentage of winning GPP lineups with top-scoring players in specific usage brackets (represented with the percentages at the bottom). For example, the two bars all the way to the left show the percentage of winning GPP lineups in both NFL (12.9 percent) and MLB (23.3 percent) with a high-scoring player who was owned on anywhere between one and five percent of all lineups.
The data on this graph is extremely interesting and should make us think about how we structure our tournament lineups. Namely, look at how important it is to have a low-usage player who erupts for a huge game. Of all winning GPP lineups, 45.2 percent of daily fantasy football teams and 41.4 percent of daily fantasy baseball teams hit on the top-scoring player who was in 10 percent or fewer lineups. That's pretty remarkable.
At the other end of the spectrum, you can see there's a jump in the frequency of lineups with the best player who was 51-plus percent owned. That might be due to a larger player pool, but since not many players are ever in more than half of lineups, it could also be evidence to not forgo elite values. When a player stands out as the clear-cut top value, use him, regardless of the league type. It's the second-tier values you might want to fade in favor of less-utilized players.
If you can hit on an underutilized player on Wild Card weekend, it will propel you up the leaderboard because the player pool is so small. The value of rostering someone that few people have is massive—much greater than in other weeks.
With that said, here are a few under-the-radar plays I like on FanDuel this weekend.
Under-the-Radar FanDuel Wild Card Plays
QB Alex Smith @IND $7500
The Chiefs are projected by Vegas to lose this game. Quietly, Smith could approach a season-high in attempts, and he'll do it against a defense that ranks 25th against quarterbacks in Schedule-Adjusted Fantasy Points Allowed. Plus, while there could be inclement weather in other contests, that's not a concern in Indy.
RB Eddie Lacy vs. SF $8300
Lacy probably won't be heavily owned because he's the third most expensive back behind Jamaal Charles and LeSean McCoy, and he has a poor matchup against the fourth-toughest defense versus running backs.
But in Lacy, you get one of the few backs on whom you can count to score—he has a touchdown in six of the past seven games—and there's a decent chance he gets into the end zone more than once. If that happens, you suddenly have a huge advantage over the field, whereas a couple scores from Charles or McCoy wouldn't necessarily give you that same bump.
WR Griff Whalen vs. KC $4900
No lie, I thought this guy's name was "Giff" before I clicked on him in the value reports. So consider Griff Whalen this week, but don't start his evil twin "Giff."
With 15 catches in the past three weeks, Griff has outperformed Giff by 15 catches. Griff has also scored twice during that time, while Giff has yet to find his way into the end zone. Giff might be the ultimate contrarian play, but Griff's projection is infinity percent higher.
TE Jimmy Graham @PHI $7600
I'm listing Graham here just to let you know that I think he's a must-play on FanDuel just about every week. If you really want to go off the map (a little), Coby Fleener is an interesting play.
Wild Card Weekend FanDuel Optimal Lineups
4for4 Premium Content
There's more, but it's available only for 4for4 subscribers.
If you are a current subscriber, please login here
We are your friend's secret weapon.
Get 4 FREE downloads
Receive breaking news alerts & analysis
BONUS: Learn how to play DFS.
Battle-Tested by 40,000+ fantasy football diehards since 1999.