Week 16 Optimal FanDuel Plays
It's going to be a weekend of big tournament action for me. In addition to competing in the DraftKings Millionaire Grand Final (optimal lineups here), I also have a handful of entries into FanDuel's "King of the Gridiron." The qualifiers for that tourney have ended, but you can still buy in directly for $200.
I broke down some potential QB-WR pairings in that DraftKings post, and those are basically the same on FanDuel as well. The salary matters, of course, but I'm more concerned with upside in tourneys. I'd probably avoid Matt Schaub on FanDuel, but otherwise, those stacks are all in play.
The approach to taking down the "King of the Gridiron" is the same as it will be in the Millionaire Grand Final, emphasizing extreme upside. There will be 5,988 players in this tournament if it fills, and I have exactly 0.067 percent of the entries. To win, I'll need to take some chances.
Week 16 FanDuel High-Upside Plays
QB Colin Kaepernick vs. ATL $7900
I wish Kaepernick were a little cheaper elsewhere (he's still playable) because I think he has massive upside in a juicy matchup with the Falcons. He's a risk, but this just seems like the type of game in which he's going to put up like 250/3 and run for 50 yards. Plus, you can easily stack him with either Michael Crabtree or Vernon Davis, both of whom are awesome values.
RB LeSean McCoy vs. CHI $9700
McCoy against the Bears is an absolute dream scenario—arguably the top rushing offense versus the worst rushing defense. And if the Cowboys lose earlier in the day, the Eagles will be playing for the NFC East crown.
WR Keenan Allen vs. OAK $7100
Allen checks in at No. 2 in the value reports, just behind Pierre Garcon. Let's do a quick comparison of the two receivers.
High-Scoring Game? Push
Quality QB? Advantage Allen
Excellent matchup? Push
Elite size and red zone ability? Advantage Allen
When I'm creating tournament teams, I want players who have multi-touchdown potential. Garcon is an excellent value and he's still worth using in GPPs, but I think Allen's size and red zone ability gives him the edge.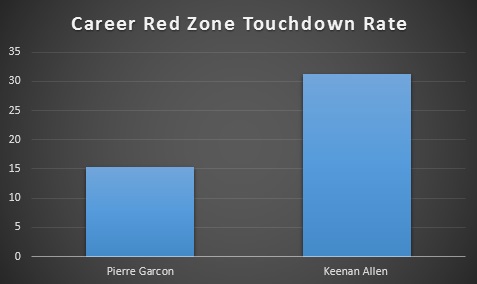 Even though Allen's career has been short, his impressive red zone success thus far, combined with his 6'2" frame, suggests he's going to be a red zone force for years to come. Meanwhile, Garcon has an unimpressive 15.4 percent career red zone touchdown rate, despite playing with Peyton Manning for three seasons.
TE Jimmy Graham @CAR $7700
I don't really need to explain this one, so what I'll say here is that I think tight end is extremely thin this week. I'm having a lot of trouble figuring out who to start.
Jordan Cameron is overpriced on FanDuel and still has lingering concussion issues. The production you can expect from a low-priced guy like Coby Fleener isn't great. Antonio Gates offers value in theory, but he's unreliable and probably not too smart of a GPP play. Vernon Davis is another option, for sure, especially if you want to stack him with Kaepernick. Otherwise, my advice is to just go with value and hope for the best. Cutting-edge stuff here.
Week 16 FanDuel Optimal Tournament Lineups
4for4 Premium Content
There's more, but it's available only for 4for4 subscribers.
If you are a current subscriber, please login here
We are your friend's secret weapon.
Get 4 FREE downloads
Receive breaking news alerts & analysis
BONUS: Learn how to play DFS.
Battle-Tested by 40,000+ fantasy football diehards since 1999.