Breaking Down the DraftKings Millionaire Grand Final: Who Will Win $1 Million?
Guys, Josh and I aren't going to be millionaires. Well actually, I don't know if Josh is already a millionaire. He might be, but he isn't going to be winning $1 million more this weekend. I'm a thousandaire at the moment (nbd), and a last-minute lineup change in the DraftKings Millionaire Grand Final might have cost me a couple thousand more bucks.
Here's the lineup I used yesterday.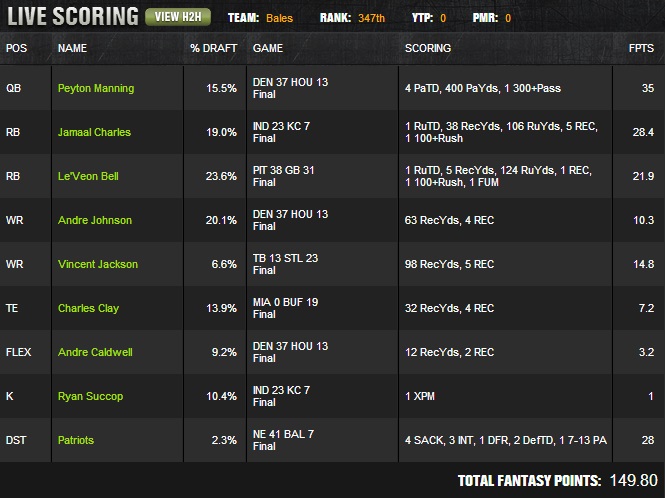 My thinking was that it would be ridiculously hard to ever stack Peyton Manning and a receiver at a cheap price, but at $12,300, the Manning-Caldwell duo was extremely affordable. Caldwell didn't work out, but it did allow flexibility elsewhere to grab players like Jamaal Charles (pretty good) and Andre Johnson (horrific).
I almost never pick a kicker that's on the same team as one of my players because they can steal points from each other, but I thought it might actually help me cash. I figured the chances of winning this thing with a single lineup were pretty minimal given the number of players with 20-plus entries out there, so I tried to increase upside and limit a little risk simultaneously in an effort to finish in the money.
So yeah, that didn't work out. Given that I'm currently less than three points away from cashing, I'd say the decision was sub-par bad one of the dumbest of all-time.
It hurts to finish somewhere in the top quarter (in all likelihood) and not cash, but that's the way it goes.
Who is going to be the DraftKings Millionaire?
Even with a field of 2,015 players, there are only a handful who have a shot at the $1 million grand prize. The Sunday night Eagles-Bears game changed a whole lot (it knocked me from the top 150 out of the top 300). Here's a look at the current top 10.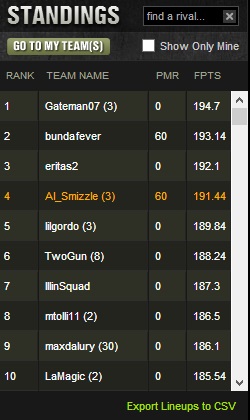 'Gateman07' is leading the field with 194.7 points. He paired Peyton Manning with Eric Decker, who many viewed as overpriced. That might actually have been a smart contrarian move, although he has basically no chance to win with players going tonight.
The two most likely millionaires at this point are bundafever (a player I don't know) and Al_Smizzle (one of the top players in the industry). Here's a look at their respective lineups. . .
bundafever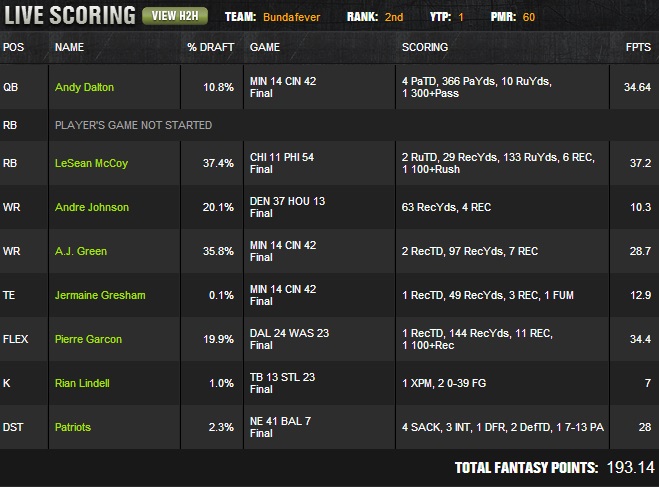 Pairing Andy Dalton with both his top receiver and tight end was a curious strategy, but it's worked out thus far. At less than two points from first place with a running back (presumably Frank Gore) to go, bundafever is probably the favorite (albeit a slight one) to win at this point.
Al_Smizzle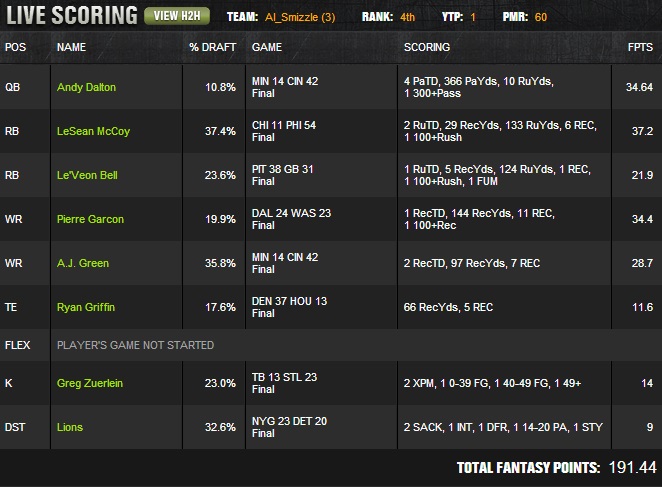 Al_Smizzle also went with the Dalton-Green stack, hitting on pretty much everyone else along the way. He needed it without the Patriots defense, which had two late touchdown returns.
With elite players LeSean McCoy and A.J. Green having already played, my guess is that the flex player that Al_Smizzle still has in his lineup is Michael Crabtree, who was severely underpriced at $4,300. If so, that battle with bundafever is going to be an awesome one to watch.
The Field
There are so many players in the field that it's not out of the question that we could have a surprise winner rise up, perhaps even from outside the current top 500. Looking at who still has players in tonight's game, here are the other lineups with over 170 points right now, along with the player I believe they have remaining.
·         CrimaSaad – 178.94 points (20th) – Michael Crabtree
·         mattness – 176.74 points (30th) – Michael Crabtree
·         mattness – 175.44 points (34th) – Michael Crabtree
·         lilgordo – 175.08 points (39th) – Michael Crabtree
·         GreaseMonkey – 174.94 points (40th) – Michael Crabtree
·         NST101 – 173.44 points (47th) – 49ers D
·         jockpostdt – 172.6 points (51st) – Michael Crabtree
·         aikim – 172.44 points (52nd) – Matt Bryant
·         Laiyang2 – 171.1 points (60th) – Michael Crabtree
There are also a handful of lineups with two players remaining. The top one that doesn't have a kicker in it belongs to 'jlowery73.' With 153.1 points, he's currently ranked 286th, although he has a wide receiver and tight end yet to play. Looking at his lineup, my guess is that those players are Michael Crabtree (surprise!) and Tony Gonzalez. That would put him in the running just because no one ahead of him has Gonzalez, unless he's placed in the flex spot.
Interestingly, not a single player in the top 500 has a quarterback-wide receiver pairing, meaning it's likely that the DraftKings Millionaire will be one of a handful of names. It's very possible that I'm wrong about the player remaining for the above users, with players using either Anquan Boldin, Vernon Davis, or another pass-catcher.
If the field is indeed littered with Crabtree, though, that would really make this thing a two-man race. Using my own projections, here's how I think it breaks down.
| | | | | |
| --- | --- | --- | --- | --- |
| Username | Points | Place | Likely Player Remaining | Probability of Winning |
| Gateman07 | 194.7 | 1 | None | <0.01% |
| bundafever | 193.4 | 2 | | 51% |
| Al_Smizzle | 191.44 | 4 | | 48% |
| NST101 | 173.44 | 47 | 49ers D | <0.01% |
| Other | NA | Outside Top 500 | NA | 1% |
With a lead of just 1.3 points on bundafever and 3.26 points on Al_Smizzle, Gateman's chances of becoming a millionaire are next to zero. He would basically need Frank Gore and Michael Crabtree to both get hurt immediately.
NST101 has the smallest of small chances given that he has a unique lineup with a defense still to play, but being over 20 points out of the lead (and needing a lot more than that with Gore and Crabtree ahead of him), he also has almost no chance to win.
Still, DraftKings couldn't have hoped for a better outcome because they basically have a true coin flip on their hands. Nearly dead-even in points with (presumably) two different players left in their lineups, bundafever and Al_Smizzle are going to battle it out tonight, with one of the two almost certainly being crowned the DraftKings Millionaire Grand Final champion.
And heading into tonight's game—one that will determine who becomes an instant fantasy football millionaire—the question that will be on everyone's mind is "Why the hell would you start Jamaal Charles and Ryan Succop on the same team?"
We are your friend's secret weapon.
Get 4 FREE downloads
Receive breaking news alerts & analysis
BONUS: Learn how to play DFS.
Battle-Tested by 40,000+ fantasy football diehards since 1999.