Week 13 DraftKings Optimal Plays (Thanksgiving Edition)
Every Thanksgiving, I visit my dad's side of the family—my grandparents, aunts, cousins, and of course Uncle Bruce. I've written about Uncle Bruce in some of my fantasy football books because the guy eats, sleeps, and breathes the game.
No really, he's 45 and still sleeps on NFL sheets. It's so sad.
This year will be like those in the past—lots of season-long trade talks and absolutely no mention of any subject other than fantasy sports—but there will be one semi-new topic of discussion: daily fantasy football.
Much of my family has gotten involved in daily fantasy sports, but Uncle Bruce is going to be the one doing most of the talking. Last week, he finished third in DraftKings' $50k Hail Mary, turning his $11 entry into $1,750 in cash and a Millionaire Grand Final ticket worth $1,500. He had an awesome team—led by Josh Gordon who I took out of all lineups at the last minute—and finished just four points out of first place with a score of 204.08.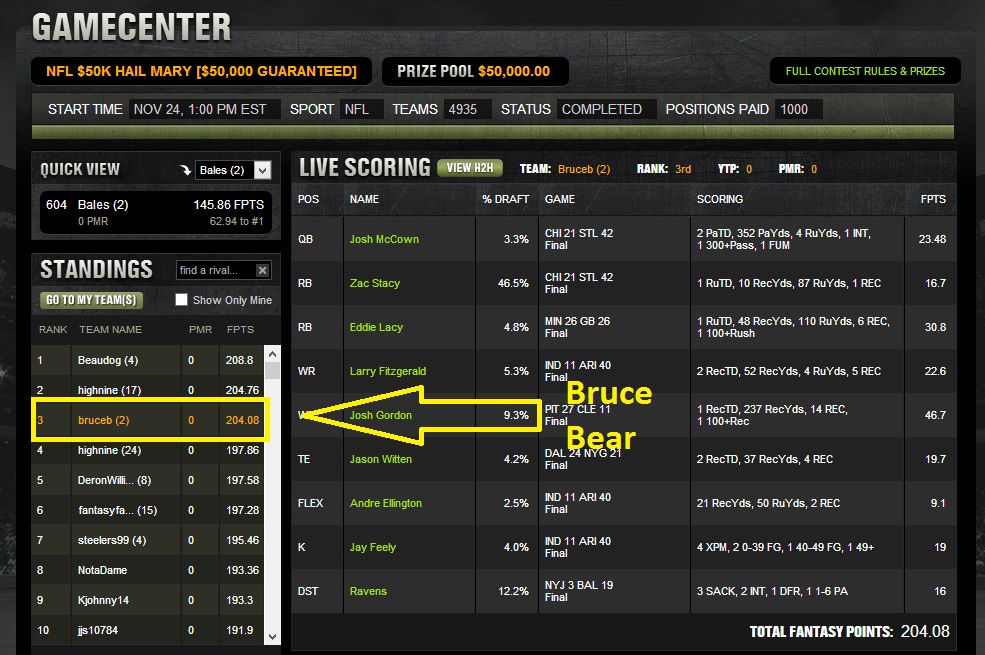 But here's the thing: I think I'd rather just pay Uncle Bruce $1,750 out of my own pocket than have to listen to all of the talking that's going to go down. Bro, Jason Witten was overvalued. Get over it already!
I'll try to divert attention to the games on TV tomorrow, which shouldn't be a problem since I know everyone will have money on the line. DraftKings and the other daily sites have all kinds of awesome Thanksgiving promos, many of which will probably have overlay, so it could make for a smart holiday investment, even with the small player pool.
So in this week's article, I'm going to give you my optimal players for use on DraftKings tomorrow—only players from the three Thanksgiving games—in hopes that in addition to a stomach stuffed with turkey, you can also have pockets stuffed with cash.
Week 13 DraftKings Values
QB Matthew Stafford vs. GB $9,400
Is Stafford great value at $9,400? Hell no, but you have six quarterbacks you can theoretically choose. In my opinion, the pool is really just two—Stafford or Tony Romo. Stafford is $1,700 more expensive, but he's also safer with higher upside.
And if you read last week's article on thinking probabilistically, you know Stafford is a favorite of mine. Take the sure points.
RB Le'Veon Bell @BAL $6,000
There are better values than Bell, including Rashad Jennings at $100 cheaper, but here's the thing…if you're playing a Thanksgiving tournament, you're going to need to diversify your lineup from the pack in some way. Jennings and perhaps Eddie Lacy are going to be very highly owned, but that might not be the case for Bell.
First, he's kind of a boring back right now. Second, he has a difficult matchup against a Ravens defense that has allowed the sixth-fewest points to running backs. But there's no good reason to think that Bell won't see 20 carries and catch at least three passes, so he's a decent bet for 100 total yards and a touchdown.
WR Jarrett Boykin @DET $3900
I normally would try to avoid playing a wide receiver and the opposing quarterback in the same tournament lineup, but the pickings are slim when there are only three games. Boykin is the top wide receiver value in all games this week, though, so this is the perfect fit.
TE Heath Miller @BAL $3500
Tight end is absolutely going to be the most important position in these Thanksgiving leagues. Here are the top six tight ends listed on DraftKings, in order of price: Jason Witten, Brandon Pettigrew, Heath Miller, Mychal Rivera, Brandon Bostick, and Joseph Fauria.
Yikes.
You know the majority of lineups are going to have Witten, but I think Miller is the play here. He's $2,200 cheaper, so he'll give you more flexibility than Witten, and he's caught 13 passes in the last two games.
However, I wouldn't recommend pairing Miller and Bell in tournaments since they'll be competing for a limited number of touchdowns (you could potentially pair teammates in a game projected to be more high-scoring).
DraftKings Optimal Lineups
4for4 Premium Content
There's more, but it's available only for 4for4 subscribers.
If you are a current subscriber, please login here
We are your friend's secret weapon.
Get 4 FREE downloads
Receive breaking news alerts & analysis
BONUS: Learn how to play DFS.
Battle-Tested by 40,000+ fantasy football diehards since 1999.