Staking Bales: The Best QB-WR Combos in Week 13
While you'll occasionally see winning tournament lineups without any teammates, the majority of them have a quarterback paired with one of his receivers. Here's why.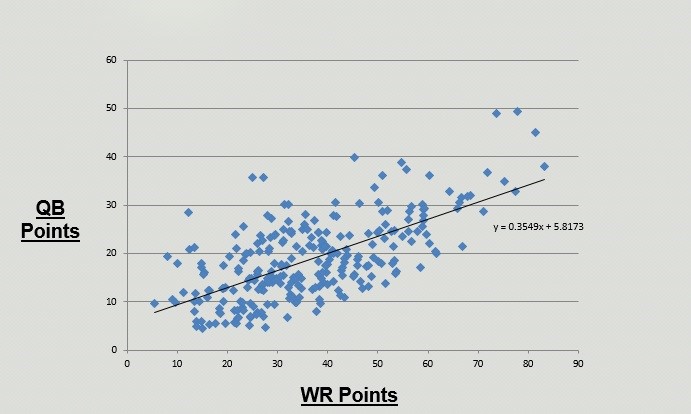 There's an extremely strong relationship between quarterback points and wide receiver points, and that increases the volatility of your lineup. It might result in a horrible week, but it also increases your upside to the point that you can maximize tournament win probability.
That's why you should be stacking a quarterback with one of his pass-catchers in every single tournament or large-field league, except in very rare circumstances.
With that said, here are my favorite quarterback/wide receiver pairs for Week 13…
Andy Dalton/A.J. Green vs. SD
Very quietly, Andy Dalton has been a low-end QB1 this year. He had a very strange outing a couple weeks ago in which he threw for only 93 yards and three touchdowns, but prior to that, Dalton had at least 274 yards in five straight games. Since the beginning of that stretch, he's thrown 17 touchdowns.
And A.J. Green is A.J. Green.
Plus, the Chargers' pass defense is horrendous. They've allowed the seventh-most passing yards in the NFL and they're ranked 31st in pass defense efficiency. Assuming San Diego can keep the game close enough for Dalton to rack up a good number of attempts, which should be the case, this duo is my favorite of the week.
Carson Palmer/Michael Floyd @ PHI
Palmer and Floyd rank very high on my list of duos to stack this week. The Cardinals have a great matchup against the league's second-worst pass defense. Palmer should see plenty of attempts, as he has for much of this season. Although the quarterback began the year poorly, he has 733 passing yards and four scores in his last two games.
Most daily fantasy players won't use a Cardinals stack, but the ones who do will likely choose Larry Fitzgerald to pair with Palmer. I think that's a mistake. While Fitz has just one 100-yard receiving game this year, Floyd has two in the last two weeks alone, including a 193-yard effort a couple games ago.
If you're going to play Palmer, pair him with Floyd, who is cheaper than Fitzgerald, nearly as effective in the red zone, and a contrarian play that works well in tourneys. The Palmer-Floyd duo will also give you all kinds of flexibility elsewhere in your lineup.
Josh McCown/Brandon Marshall vs. MIN
McCown and Marshall face a pass defense that's allowed the fifth-most passing yards in the NFL this year. Further, the Vikings have been horrible in the red zone, giving up the most passing touchdowns in the league. As an added bonus, the game will be played indoors.
The real issue is who to pair with McCown. Alshon Jeffery is also an option, and if you have the funds, I'd recommend pairing McCown with Marshall in one league and McCown with Jeffery in another.
The reason I like Marshall a little bit more than Jeffery, though, is that McCown has shown he prefers going to the veteran receiver. In the games McCown has started this year, Marshall has averaged 85 yards and one touchdown. In those same games, Jeffery has totaled 72 yards and 0.25 touchdowns per game.
That's an average of 5.8 fantasy points per game in standard leagues (and 7.55 points per game in PPR leagues when you factor in their catches), which more than makes up for the difference in salaries.
We are your friend's secret weapon.
Get 4 FREE downloads
Receive breaking news alerts & analysis
BONUS: Learn how to play DFS.
Battle-Tested by 40,000+ fantasy football diehards since 1999.