Staking Bales: Back on Track in Week 11
It was around a month into the season when I told you guys that I'd be taking some shots in this staking series, hoping to "pay for" my tournament entries with head-to-head and 50/50 winnings. Well, here are the results of that endeavor.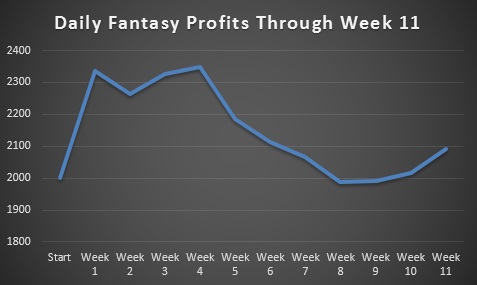 Tournaments are relatively volatile, so you just need to stay in the game long enough to cash in on a big payday. Well, I've stayed in the game, currently sitting at $2,090.13 on the year. Here are screenshots of each account balance up to this point.
FanDuel
Looking good here. I play the majority of my head-to-head action at FanDuel.

StarStreet
I've been playing a lot of qualifiers at StarStreet in hopes of winning a trip to the Playboy Mansion. Don't care about the money…Must. Get. To. Mansion.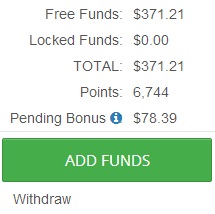 DraftKings
A lower account balance should be expected here since I'm playing almost exclusively tournaments. I haven't hit on anything big, which I'm convinced is a fluke since I've won at DraftKings in the past.

If necessary, I'll transfer some of my FanDuel balance to DraftKings because, as someone who has been profitable at DraftKings, I know the power of their tournament structure. Even paying out the top 20 percent, though, tournaments are still volatile, so it's just a matter of sustaining my bankroll long enough to cash in.
DraftDay
I left the "HELP" text in this screenshot because that's what I need over at DraftDay.

So, I'd prefer to be up more than $90 at this point in the season, but I'll gladly take it considering I haven't had a tournament cash greater than 2x my buy-in. I'm going to continue to take my shots because I'd rather have the chance at a massive payday than to grind out profits with a relatively small bankroll.
Adjustments
Even though I've been dominating heads-up and 50/50 leagues this year, I still think there are some areas in which I need to improve. Namely, I'm going to focus more on getting exposure to the types of players I prefer over the long-term: mobile quarterbacks, pass-catching running backs, and big, red zone-relevant receivers.
In past weeks, I've found myself playing matchups a little bit too much, starting players like Tavon Austin and Ray Rice—two guys I was down on in the preseason for various reasons. The matchups are obviously important in daily fantasy, but you should also have the most exposure to the sorts of players who score points over the long run, too (and that usually isn't small rookie receivers or aging running backs).
I wrote about this idea last week and even gave you four guys to avoid in Week 11:
"Certainly there are differences between daily fantasy and season-long, but the latter is still the accumulation of points in the former. At the end of the day, it's still the same types of players who lead the league in fantasy points—big receivers, fast running backs, and so on—so if you continually find yourself with the most exposure to them on a weekly basis, things will work out.
Matchups of course play a role in daily fantasy, and a big one. But make sure not to go overboard valuing guys who we know aren't necessarily elite talents because of quality matchups, a new role in the offense, or whatever.
Sometimes we can place too much emphasis on these factors, which are already factored into the rankings and weekly point projections. It makes sense to consider matchups, but make sure we always have the most exposure to the right sorts of players."
The players I told you to avoid were Case Keenum, Rashad Jennings, DeSean Jackson, and Jordan Reed. Keenum was benched, Jackson had 12 points in PPR leagues and eight points in standard, and Reed had just a single catch. Jennings was the only one of the bunch to have a big day.
That's hardly conclusive evidence that you need to avoid all players who might not be the best long-term options, but personally, I'll be taking this approach moving forward. Less DeSean Jackson, more Jordy Nelson.
We are your friend's secret weapon.
Get 4 FREE downloads
Receive breaking news alerts & analysis
BONUS: Learn how to play DFS.
Battle-Tested by 40,000+ fantasy football diehards since 1999.