Staking Bales: 7 Daily Fantasy Tips for Week 10
I made 73 cents last week, so I guess you could say things are going pretty well. It's not all the time that you win enough money to buy absolutely nothing at all in LESS THAN 48 HOURS!
Since this is a staking, I have to split that with Josh Moore. 36 ½ cents. Nice. I probably made like four cents per hour of research.
But I don't want to use this whole article to brag. I also want to give you guys some tips so that you can share in the wealth.
Week 10 Tips
Tip No. 1: Start Robert Griffin III and Pierre Garcon in your time travel leagues.
I accidentally got them in some tournaments yesterday before the game started, so I'm off to a good start there.
Tip No. 2: Consider Eli Manning on every site, especially FanDuel.
At $6400 on FanDuel, I'll be all over Manning again this week. You'd think I'd just be right about him one week out of luck, but let's see how long he can keep his I'm-going-to-bankrupt-you streak alive.
Tip No. 3: Become a Bush supporter.
I didn't vote for George W. Bush because (insert any reason at all that you prefer) and I didn't vote for his dad because they don't let three-year old kids vote, so this week will be my chance to make up for that.
Reggie Bush has a matchup against the Bears that suddenly looks enticing. Because of his workload, he's become a very high-ceiling/high-floor player who offers something that most backs in his price range can't match.
Tip No. 4: Save on wide receivers.
I'm in the midst of working on a new daily fantasy sports book, and I'm doing more work on week-to-week consistency.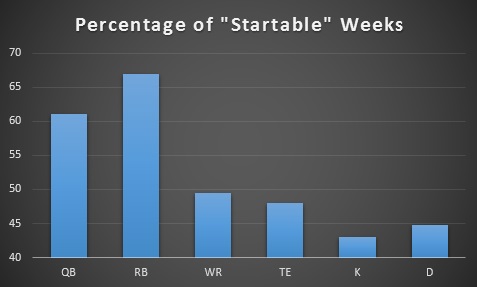 Quarterbacks and running backs have been overwhelmingly more consistent than the other positions the past few years, i.e you get what you pay for.
"The Top Six" wide receivers from earlier this season were in a class of their own, but that's sort of changed. Calvin Johnson costs an arm and a leg, Dez Bryant is banged up, and Julio Jones is out. That leaves Brandon Marshall, A.J. Green, and Demaryius Thomas.
It's difficult to justify paying top dollar for Thomas when his teammates are so much cheaper. Why would I pay $8300 for Thomas when I can have Eric Decker, who probably has just a slightly lower chance of posting huge numbers, costs only $6200?
If you want to spend big on a receiver this week, I think Marshall should be your man. Otherwise, save the cash.
Tip No. 5: Watch the games without your laptop, iPad, tablet, or phone.
Difficult, right? I try my best to just watch the games and let the chips fall where they may. I struggle with that for what seems like hours before I get on my computer and see that it's 1:20 EST.
Tip No. 6: Open up the flood Gates.
These puns are pretty awful. But I love Antonio Gates this week at home against the Broncos. Check out the line on that game; it's been approaching 60 points. Any time you can target a pass-catcher in a game you pretty much know is going to be a shootout, that's a good idea.
Also, feel free to mix and match players from that DEN-SD game in your heads-up leagues. When the probability of teams scoring fewer than 50 points is minimal, there's no reason you can't stack that game. It will limit your upside a bit, but a Knowson Moreno/Eric Decker/Antonio Gates/Keenan Allen lineup isn't a bad play in heads-up matches.
Tip No. 7: Shift more money to 50/50s.
Once we get to this point in the season, it's a lot easier to recognize player usage patterns. That raises player floors because 1) you know guys like Eddie Lacy are going to see a certain percentage of their team's touches and 2) with so many injuries, there's less competition behind them.
This week, a lineup combo that looks something like Philip Rivers, Eddie Lacy, Zac Stacy, Eric Decker, Antonio Brown, and Antonio Gates is probably going to give you a pretty high floor that will help you in 50/50s and head-to-heads.
We are your friend's secret weapon.
Get 4 FREE downloads
Receive breaking news alerts & analysis
BONUS: Learn how to play DFS.
Battle-Tested by 40,000+ fantasy football diehards since 1999.