Perfect Draft Series: Drafting 8th in a 10 Team PPR League
I'm back with another installment in 4for4's Perfect Draft Series. For those of you who don't already know, PC Drafter is a draft assistant program which maximizes the scoring potential of your team. You can either use it to run mock drafts or run it live concurrently with your fantasy draft by manually entering picks. The player projections are updated very regularly (using 4for4 projections), which allows for a unique experience each time you run a mock.
The key to making the most of what this program has to offer is patience and understanding a little bit about value based drafting strategies. Since you're a 4for4 subscriber, take a gander at our Value Based Rankings Application. Not all positions are made equal depending upon your league settings during your draft. PC Drafter takes out all the guesswork by handpicking your best options with each and every selection. You can read all the fantasy football articles on the internet, but they can only offer you so much help when you're on the clock and thinking on the fly. Your 4for4 subscription includes a free PC Drafter download, so load it up and give it a whirl after reading below what it can do for you.
In this mock draft, I had the 8th pick in a 10-team PPR scoring league. There are 16-man rosters with the following starting lineup: 1 QB, 2 RB, 3 WR, 1 RB/WR/TE flex, 1 TE, 1 DEF and 1 K. In the screenshot below, you will find how I set up the roster requirements and position limits.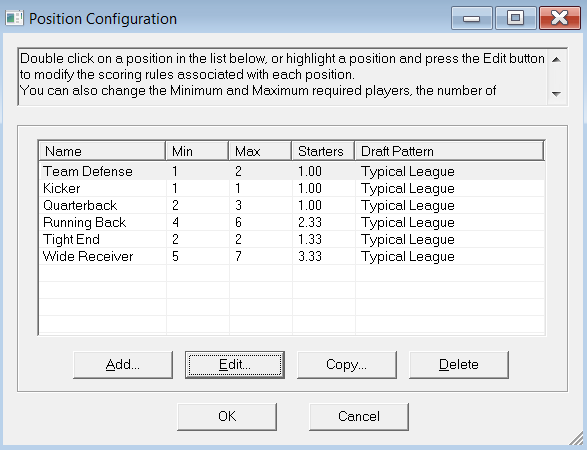 Round 1, Pick 8: TE Jimmy Graham, New Orleans Saints
With Trent Richardson, Marshawn Lynch and LeSean McCoy on the board, it would take a fiery determination to pull the trigger on Jimmy Graham. So, what's the logic? Graham is projected to score 276 fantasy points (95 receptions, 1211 yards and 10 TDs). The next TE, Rob Gronkowski, is only projected to score 175 points. This big point discrepancy dramatically increases Graham's value, especially with the flex position including TEs, into the first round. Needless to say, if you end up with Graham, the priority for a backup TE becomes nil. Time to load up on every other position.
4for4 Premium Content
There's more, but it's available only for 4for4 subscribers.
If you are a current subscriber, please login here