Perfect Draft Series: Drafting 1st in a 16 Team PPR League
By now you have hopefully learned the many benefits of using the PC Drafter software. You should also understand the limitations. While great care is used to glean every detail available in order to create accurate projections, they are only a rough guideline or a very educated guess. You'll need due diligence, not only in your draft, but with your in-season management. Getting lucky on the waiver wire, dodging the injury bug and making the right judgment calls when deciding who to sit and start. Luckily for you, fantasy football can sometimes be about preparation and that is where PC Drafter has you covered. It can't win you a championship. It can prep you to win a championship though.
In this mock draft, I had the 1st pick in a 16-team PPR scoring league based on ESPN default scoring. There are 14-man rosters with the following starting lineup: 1 QB, 2 RB, 2 WR, 1 RB/WR/TE flex, 1 TE, 1 DEF and 1 K. In the screenshot below, you will find how I set up the roster requirements and position limits. With this min/max configuration, it helps avoid any wonky rosters where the CPU might draft 3 QBs, 3 RBs, 7 WRs and 2 kickers. It also makes it more difficult to stand out from the crowd with a good draft since all rosters are very balanced.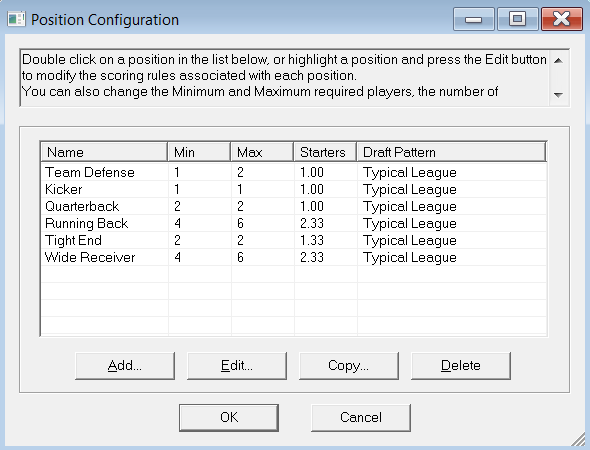 In a 16-teamer with the first pick, there will be 30 selections in between my picks. This is a huge gap where entire tiers can be swallowed up in one pass. If you lock onto drafting a position before your pick comes up, you could miss out on a huge value play right under your nose. This is where having PC Drafter's projections cements its worth.
Round 1, Pick 1: RB Adrian Peterson, Minnesota Vikings
All day, baby! No need to overthink this one. With over 2,000 rushing yards, 40 receptions, over 200 yards receiving and 13 touchdowns, Peterson was the hands-down best player a year ago. Just nine yards short of breaking Eric Dickerson's single season rushing record (2,105). Arguments can be made for guys like Doug Martin or Jamaal Charles, but neither player is all that close. Here's my favorite stat from last season: Peterson had 27 rushes of 20-plus yards, more than double the next man (C.J. Spiller, 12) on the list.
4for4 Premium Content
There's more, but it's available only for 4for4 subscribers.
If you are a current subscriber, please login here