The Marshawn Lynch Legal Situation & Fantasy Fallout
As you all know by now, Seahawks RB Marshawn Lynch was arrested early Saturday Morning (July 14th) in Oakland after officers spotted his van weaving and nearly crashing into two vehicles. Officers pulled Lynch over and placed him under arrest after he showed signs of intoxication. (more details here)
On Wednesday, the Alameda County District Attorney's office officially filed charges against Lynch (DUI). Lynch's arraignment is currently set for August 14th, at which time Lynch is expected to plead not guilty. Of course that is assuming the court date is not postponed. Lynch does not have to be at the arraignment and is not expected to have to miss any training camp.
The Legal Stuff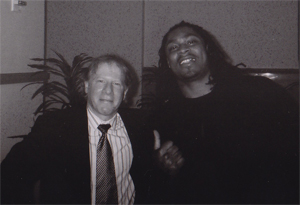 Lynch's attorney, Ivan W. Golde (pictured to the right with Lynch), is confident that Lynch has a strong case and will not miss any of the 2012 season. Then again, what did you expect his attorney to say? Especially after Ross Tucker broke on twitter that Lynch's freshly inked 4-year, $31M contract could be  defaulted and guarantees voided by a substance abuse violation or conduct detrimental to the team.
There are a couple of wrinkles here. Golde says they have a strong case proving Lynch was under 0.08 (the legal limit in California) when driving. He says this is a "classic rising blood alcohol case that should be dismissed". Golde went on to say that there is "scientifically a better than 50% chance Marshawn was under the legal limit while driving." It should also be noted that Lynch's poor driving and failed field sobriety tests could lead to a conviction even if he was not over the legal limit, although Golde brushed off this line of thinking. (full interview here after the 35 minute break)
Secondly, no one really knows how this will be interpreted by the NFL league offices and commissioner Roger Goodell. Lynch was previously suspended for 3 games in 2009 for having a loaded gun in his vehicle. In 2008 Lynch was involved in a hit-and-run incident in which his Porsche struck an intoxicated woman. So Lynch is a repeat offender, but the offenses were not of the "substance abuse" variety, they were of the "personal conduct" variety. Some are interpreting this to mean that even if Lynch is convicted of a DUI, he will be treated as a first-time offender under the NFL's substance abuse policy, and will not be suspended as a repeat personal conduct offender. It's a very fuzzy line there.
While this is certainly possible, it is also entirely possible and perhaps more likely that Rodger Goodell doesn't care about the technicality. In the world of NFL suspensions, Goodell is both the judge and the jury. In 2010 Goodell
suspended
Steelers
QB
Ben Roethlisberger
6 games (eventually reduced to 4) for a sexual assault allegation that never resulted in formal charges. We certainly wouldn't be surprised to see that approach taken here.
Fantasy Fallout
For fantasy owners, Lynch is now an extremely risky pick. Before the bust his ADP was RB11, as a 2nd round pick. In 
this recent draft
, Lynch fell to 4.03 and we expect that trend to continue. While it is possible Lynch could avoid 2012 suspension due to the substance abuse technicality, dropped or beaten charges, or that the case could be delayed until next season (a common tactic, see the StarCaps case), it's also possible that Goodell could treat Lynch as a repeat offender and suspend him for 4, 6 or more games. It's also possible (however unlikely) that the
Seahawks
could look to get out from Lynch's contract altogether.
When addressing a situation like this
in our rankings
, we look at all possible scenarios and try to find the middle ground, or an average of all likely scenarios. In this situation we currently see that middle ground as about 4 games missed by Lynch in 2012. Discounting four games from Lynch's totals dropped him from his spot as a borderline top 10 running back to RB21, between
Shonn Greene
and
Willis McGahee
.
It's possible that as things play out over the next few weeks we lower our estimate (and that's really all it is) to two or even zero games missed, but as of right now Lynch looks like a risky pick. We'd much rather grab
Steven Jackson
,
Reggie Bush
or
Ahmad Bradshaw
than a guy with a suspension cloud hanging over his head, ready to storm on our fantasy seasons.
One last negative on Lynch's 2012 season outlook... if he does miss time to start the season, he's missing out on the best part of his schedule. The two best 
rushing matchups
 of Seattle's season are Week 4 vs. St. Louis and Week 5 vs. Carolina. After week 6 the
Seahawks
have a brutal schedule, facing four top 5 opponents. Unfortunately for most Lynch owners, the second
Rams
matchup comes in Week 17.
That said, a case can still be made for Lynch as a value pick, assuming his ADP drops significantly. In 2011 Lynch scored only 20 fantasy points over the first four weeks of the season. If you remove weeks 1-4 from Lynch's totals, he still would have finished as a top 6 fantasy back. You can also argue that the points per game Lynch will provide in the games he does play will be significantly higher than the likes of other players like Greene & Turner who may end up with higher season totals, but lower points per game. There is also a decent chance Lynch does not face any punishment this year for the reasons outlined above.
Ultimately it's a risk vs. reward scenario, and right now we're waiting to see how things play out before moving Lynch back up our boards. We were already somewhat concerned Lynch would not be able to repeat his contract year 2011 season, a season in which he still only rushed for 4.22 yards per carry. However, if Lynch does fall in your draft, some owners will want to take the reward upside vs. the risk banking on due process of the law and Lynch's legal team. The important thing is to be informed when weighing the decision.
If Lynch is suspended, rookie
Robert Turbin
and veteran
Leon Washington
will be expected to fill the hole, with Turbin likely used on early downs and short yardage and Washington as a pass catcher.
We are your friend's secret weapon.
Get 4 FREE downloads
Receive breaking news alerts & analysis
BONUS: Learn how to play DFS.
Battle-Tested by 40,000+ fantasy football diehards since 1999.