Draft Analyzer Walkthrough
We have joined forces once again to bring subscribers Draft Analyzer, an incredible tool designed to optimize your fantasy team at every pick. It conveniently comes pre-loaded with 4for4's award-winning player projections for all formats, including standard and PPR. In real-time, Draft Analyzer provides a color-coded, top-down view of your entire draft, displaying pick recommendations, player value rankings, customized draft plans, fantasy rosters, NFL depth charts and much more. This season's version is easier, faster and includes a more intuitive layout and features!
This article will outline the process of setting up a league and highlight some of the key features the software has to offer. I recommend that you open Draft Analyzer in a separate window in order to get the most out of this tutorial.
Quick Start Guide
For those who want to get right to it, follow these easy steps.
Go to the Draft Analyzer Landing Page and click the red-button "Launch Draft Analyzer".
Add the Draft Analyzer Browser Extension to enable live sync features (available on Chrome; coming soon to Edge).
Open your league home page in a new browser tab.
Head back to the DraftAnalyzer Dashboard and click the blue button "Add My League" and you will be taken through a couple of steps to sync your league. Using the browser extension is the easiest, but there are also other options to sync by entering your site's League ID or simply using a site template with preloaded scoring rules and roster requirements if you don't need to sync your live draft. (click "Add League Manually" for a mock draft)
Double-check your league settings, scoring and draft spot by clicking the "Settings Options" drop-down box next to your league.
Once your settings are confirmed, head back to the Draft Analyzer Dashboard and select the Draft Analyzer (Classic White Design) tool from the "Fantasy Tools" drop-down box and get drafting!
NOTE: If you are a Classic Subscriber, you do not have access to league import (Step 4) nor live draft sync. To add a league, you must use the third option after you click on "Add My League" (site template). Then you can go straight to Step 5. To access league import and draft sync to all league sites, you must upgrade to the Pro plan.
The Draft Analyzer Browser Extension enables league import and draft sync with: Yahoo, ESPN, CBS, NFL.com, Sleeper and FFPC. It is not required for league import and draft sync with RTSports, MyFantasyLeague, BB10s and NFFC.
For a more detailed description of DA's useful features and how to set up your league to take advantage of them, keep on reading.
Setting Up Your League
Under tools on the 4for4 site, head to the Draft Analyzer landing page and click on the "Launch Draft Analyzer" button. In the middle of the page, you'll see a blue "add league" button. Once clicking the button, you are given the option to automatically synch your league using the new chrome extension, or manually add a league from a drop-down list of over 15 sites.
Once you've created your league, go to the "settings options" drop-down box and select "general settings". This allows you to choose the type of draft you're participating in (snake, straight, third-round reversal, etc.), the number of rounds, team names and spots, roster and starter requirements, and sync info, when applicable. After the general settings are saved, click on "scoring rules" from the same "settings options" drop-down box and enter your league's scoring rules.
NOTE: If you are importing an existing league from Yahoo, ESPN, NFL and the like, your league settings should automatically appear under both general setting and scoring rules. Double-check that they are indeed correct and be sure to select your team name and draft spot so that the app knows who it's recommending picks for.
Using the Draft Analyzer
Once all the settings are in and your league is set up, select the Draft Analyzer tool from the "Fantasy Tools" drop-down box. You are given several options, however, we recommend only using the Classic White Design.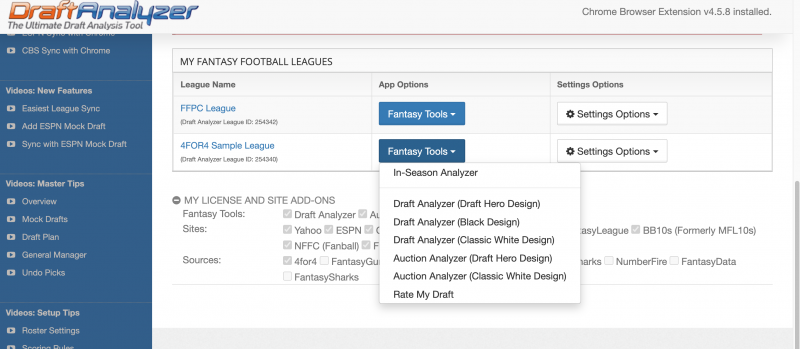 Mock Draft
If you want to be super familiar with the software on draft day, a mock draft is an excellent way to play around and get comfortable. Once your league and draft are set up, simply click on the drop-down box entitled "Mock Draft" in the top right corner of Draft Analyzer. A small pane will slide down offering to start, pause, rewind etc. Mocks are run using ADP with some degree of randomness, so all mock drafts will be different. Playing around with mocks is a solid way to explore different draft strategies until you find the one that's right for your league and your particular draft spot.
If you have the Pro version, this is when you want to double-check that your league is synched with the Draft Analyzer. For classic subscribers, be sure your league imported manually during set up above. Once launched, you'll see your league and team name, a standings tab and draft tools tab on the top right. The standings tab will show the projected points for both starters and bench players for every team involved and will change live as you run through the course of the draft.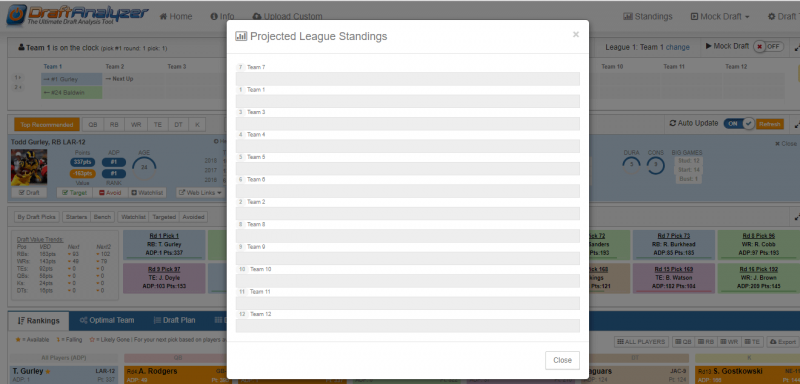 The draft tools tab is where you are able to maneuver picks within the draft, start over, export results, and launch video tutorials. I'll go over the mock draft drop-down box and its features at the end of this walkthrough.
Pane one shows the status of the draft, with all picks taken over the last two rounds, plus a toggle to turn on or off a mock draft. A yellow settings icon in the top right acts as your general manager for all draft settings, where you can change your rankings from 4for4's (not a great idea, in my humble opinion), or choose a draft strategy by position. The default on this is to optimize by core starters (QB, RB, WR, TE, plus a backup RB and WR), however, you can choose to optimize the entire team or customize, which allows you to weight each position differently based on your preferences. There is also the ability to hide or show stretch picks, which are players above their average draft position (ADP). Be sure to click save changes at the bottom of the yellow box when you are finished.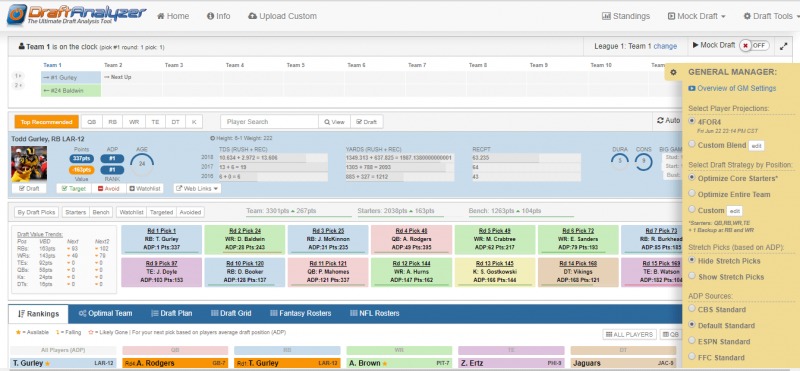 The next pane features a "Top Recommended" picks button, and when clicked you'll find a list of the five best players on the board, along with their ADP and 4for4's projected fantasy points. You'll also see "Value" here, which is also shown as VBD or value-based drafting further down the analyzer. This refers to the value of a player compared to the player in front of him. For example, if comparing Michael Thomas and Davante Adams, Thomas is projected for 315 points to Adam's 306. Their "Values" are +121 and +112, a difference of nine, which signifies that Thomas is projected nine points above the next WR in the draft, in this case, Adams.
Next to the "Top Recommended" button which showcases the optimal players, you may filter by specific position if you want to see the top five options at QB, RB, etc. This pane also allows you to search for a player by name, and in the far right, refresh the recommendations.


In the next pane, you'll see your ideal draft mapped out for you, color-coded by position, which changes dynamically as you make selections round by round. Each pick will solidify in dark blue with a checkmark once selected, with suggested rounds going across from left to right. A tally of projected points for your team sits above the recommended players and is divided into whole team, starters, and bench players.

The final pane includes six highlighted tabs:
1. Rankings
This shows overall rankings by ADP in the far left column, then position-by-position across the board. You can select your draft pick from this list and research ahead for your next several draft choices. Some helpful data for each player can be found here, including ADP, POS rank, projected fantasy points, and VBD score.
The stars to the right of each name are a helpful tool as they allow you to see players who will most likely be available, (a filled-in star), or one who should be gone by the time your pick comes around (an empty star). Players with an arrow pointing down means that they are falling in terms of ADP and if you see no star by a player's name, it means they should be available for the next two rounds. Players highlighted in orange are those suggested by the analyzer as part of your optimal team, which I go over next.

2. Optimal Team
Here you will find the players you've already selected who will appear in dark blue, along with your optimal team, including which rounds to draft them. Starters appear in the top half, with your ideal bench listed below. This will fluctuate as the draft moves along, and players are taken off the board by yourself and your fellow league mates.

3. Draft Plan
Perfect for drafters with a specific strategy when it comes to the number of players at each position, the draft plan sets Draft Analyzer apart from other tools. You can go in and decide when to draft positions based on your personal roster construction preferences. If you're a Zero-RB fan, you can uncheck the color-coded RB box on the left side for the first several rounds and it will know to not recommend them. Same goes for a one-quarterback league, superflex league, or whatever your specific draft calls for. Draft noise is now reduced to a minimum, allowing you to focus on the good stuff.

4. Draft Grid
This shows the entire draft, team by team, with the same color codes by position found all over Draft Analyzer. In this space, you can also undo picks or rewind any number of spots if you're participating in a mock, or if there's an issue with the draft. Under your team heading, you will find Draft Analyzer's optimal picks for you, which change in real-time along with the flow of the draft.

5. Fantasy Rosters
This keeps track of your league's rosters in real-time as they are being drafted round by round. The chart is conveniently color-coded by position, similar to everything we see in Draft Analyzer. Starters are located on the top half, with bench players listed on the lower portion of the screen.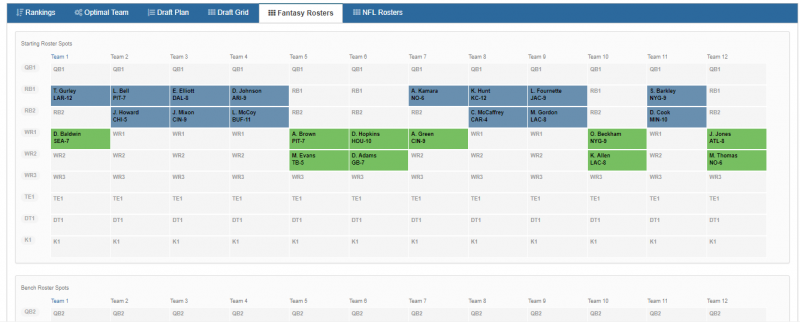 6. NFL Rosters
Pretty self-explanatory, this section shows each NFL team's roster in vertical columns. You have the ability to sort the teams alphabetically, or by offensive rank. Players turn grey once they are off the draft board.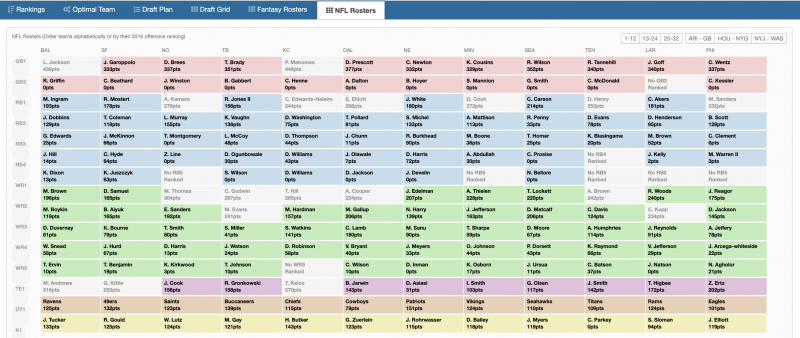 Bottom Line
Draft Analyzer is a game-changer and we feel that you will love using the software once you are comfortable with its features and distinct advantages.
The basic software is free with your 4for4 classic subscription, and upgrades are available for an added cost. 4for4 Pro and DFS subscribers also receive free access to Draft Analyzer Pro, which includes unlimited live synch and league importer, plus Auction Analyzer, which is another super helpful draft software geared for auction drafts. With the auction version, on draft day you'll be privy to a myriad of useful features such as projected fantasy points based on your league's scoring, suggested bids, optimal team with salary cap info, and much more!
Kick back, relax, slip into your comfiest loungewear, and take some time to familiarize yourself with this amazing software tool. Your fantasy team would thank you if it could.