NFL Preseason Week 1 Recap: 17 Must-Know Facts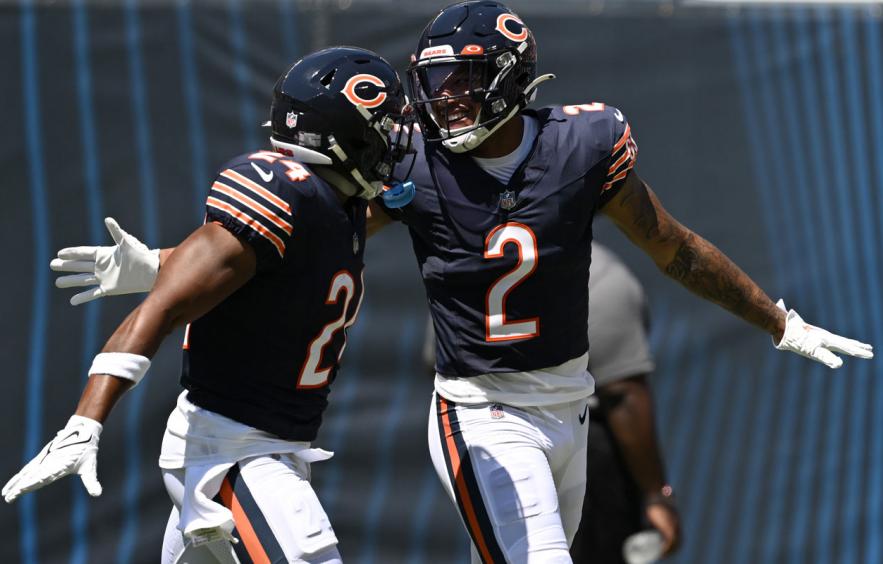 Quinn Harris/Getty Images
It's tough to get too excited about preseason football games, especially when they take place on weekend nights during the final days of summer. Week 1 usually offers a series from first-team players, maybe two if we're lucky. But fantasy players need some clarity before the bulk of drafting starts, so that's where I come in. Here's a position-by-position look at how Week 1 went down, so managers can plan and adjust accordingly for the onslaught of upcoming drafts.
---
Dominate Your Drafts: Rankings | Hot Spot Tool | ADP Bargains | Player Profiles | Draft Day Strategery | Yahoo Sleepers | ESPN Sleepers |
---
*Note: All ADP mentioned is courtesy of 4for4's Multi-Site ADP Tool.
Quarterbacks
The QB job in Houston may still be up for grabs: Rookie C.J. Stroud struggled just enough to open the door for Davis Mills to sneak in. Stroud went 2-for-4 for 13 yards and an interception in two series, while Mills put up a 9-99-1 line in his time on the field.
We may like, even love, drafting Jordan Love as a QB2: It was just two series for the Packers QB but Love was pretty encouraging in that small sample size. He completed 7-of-10 passes for 70 yards and a touchdown, connecting with five different pass-catchers, and was 4-for-5 for 28 yards on play-action. Love's ADP is currently QB25 in the 15th round.
It's still very cloudy behind Tua Tagovailoa in Miami: Mike White got the start for the Dolphins and played the entire first half. He led two failed trips to the red zone, one culminating with an end zone interception, and the other was a busted fourth-down conversion. Skyler Thompson didn't exactly shine either, throwing two picks with a lost fumble in his time to win the backup role.
That much-needed step forward for Kenny Pickett looks promising: It was just one series for the first-team offense but Pickett looked poised and composed as he went through his progressions, going 6-for-7 for 70 yards and a touchdown. Diontae Johnson caught an 11-yard pass to convert 3rd-and-10 while George Pickens hauled in a 33-yard score on 3rd-and-8. Keep firing up those Steelers at their depressed ADPs.
It was a turnover-free game for Baker Mayfield: After throwing nine interceptions in 12 practices, the Bucs QB took care of the football on Friday night, completing 8-of-9 passes for 63 yards and a 10-yard touchdown.
Don't make that HOF bust for Bryce Young yet: It was a rough NFL start for the No. 1 pick as he produced a 4-21-0 line against the Jets in three series. Young picked up just one first down against the New York defensive bench but he also got very little help from his offensive line as he was hit on three of his seven dropbacks.
Running Backs
Viking Ty Chandler wants that RB2 gig: After failing to stand out in camp, the sophomore took advantage of an extended look on Thursday night as he rushed for 41 yards on 11 carries with an additional 29 yards on four catches in the first half.
It was a solid NFL start for Jahmyr Gibbs: In his first live-action as a professional, Detroit's top draft pick carried the ball six times for 19 yards with an additional 18-yard reception. Gibbs makes for a solid early-round choice in leagues that reward points for receptions with a current ADP of 3.12 as RB15.
Deuce (Vaughn) can get loose: The sixth-round pick for Dallas, Deuce Vaughn, looked great in his NFL debut. Knocked for his height (5-foot-5), he ended the game with 50 yards on eight carries with three receptions for six yards. Vaughn's efforts likely pushed him closer to a backup role behind Tony Pollard this season and he's basically free at RB66 in the 21st round.
Don't sleep on Khalil Herbert: While the Bears RB room has been a rough one to navigate this offseason, Herbert is out here making big plays. In a dump-off pass from Justin Fields on third-and-long, the 25-year-old ran 56 yards down the sideline for a touchdown after a nice stiff arm. Herbert is currently a ninth-round selection as RB34.
If Josh Jacobs actually holds out, the Raiders' run game should be fine: Zamir White has been taking first-team reps in practice and had a decent outing, rushing for 43 yards and a touchdown on 13 carries. Hopefully, we'll know more as the preseason progresses but for now, he's the No. 1 RB on their depth chart and carries a 17th-round ADP of RB61.
Wide Receivers
It was a mixed bag for sophomore Lion Jameson Williams: As promised, last year's No. 12 overall pick was given plenty of reps before serving a six-game suspension for violating the NFL's gambling policy. Williams was targeted seven times but only caught two balls for 18 yards, including a two-point conversion but he also dropped a long pass, while also running the wrong route on another deep play. Williams is currently the WR52 as an 11th-round selection.
The Jahan Dotson-Sam Howell connection we've been prognosticating looks to be coming to fruition: Howell was decent during his two-series performance, capping it off with a 26-yard touchdown pass to Dotson. The 23-year-old WR is someone I wrote about in my 15 Second-Year Breakout Players article from July and at his current ADP of 7.12 is a great value as the WR35.
It looks like D.J. Moore is stoked to be in Chicago: On a quick screen from Justin Fields, Moore sped past multiple Titans defenders for 62 yards to the house. It was a pleasure to see for both real and fake football purposes after the Bears sat dead last in yards after the catch in 2022. Moore's ADP has been slightly depressed at WR22 but that will likely correct after his Chicago debut.

Kicker, yes Kicker
Evan McPherson is still really good: The third-year leg nailed four field goals for 38, 51, 39, and 43 yards.
Justin Tucker is unsurprisingly in mid-season form: It was just another routine 60-yard field goal for the guy who owns the record for the longest at 66 yards.
Rookie Blake Grupe had an interesting night: While the battle with Wil Lutz for the starting job in New Orleans has been going on all summer, a new battle for recognition developed on Sunday. After kicking the game-winning field goal, Grupe got mistaken for a fan by security on his way out. He recounted the story via social media.
Step 1: get questioned walking onto the field pregame for not having credentials

Step 2: hit a game winner

Step 3: get stopped by security thinking I was a fan when trying to walk out the player exit

Stay humble. Thankful. Great team win! @Saints #WHODAT
In-Game Injuries
WR Elijah Moore left the field after Clevland's opening series with a rib injury but x-rays were negative.
QB Tyler Huntley headed to the locker room with a team doctor at the start of the fourth quarter with a hamstring tweak.
RB Kendre Miller avoided major injury with what's being referred to as a knee sprain.