How to Manage 2022 Bye Weeks in Your Fantasy Football League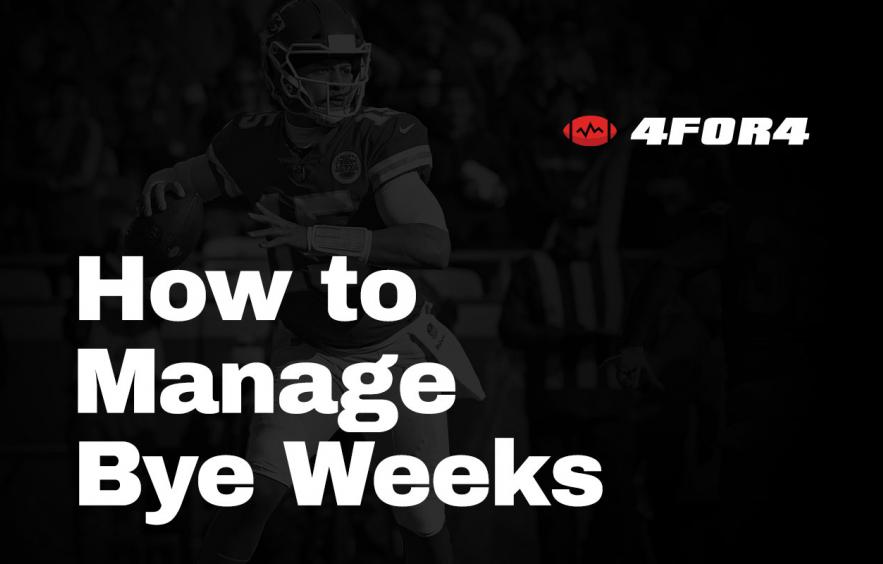 Navigating bye weeks can be a serious cause of stress for fantasy owners throughout the season. During the draft, it's enough to make sure you're drafting the best possible players without having to worry about whether or not your two stud running backs have the same bye week—here's looking at you Jonathan Taylor and Aaron Jones. But does it really matter? If you dig into the vault of excellent 4for4 content, you find a study done by founder Greg Allen where he advocated for stacking bye week players to essentially punt one matchup per season, while keeping your roster in full force for the rest of the year.
It got me thinking, how do those that live, breathe and sleep fantasy football approach bye weeks? I asked the staff for their thoughts.
2022 NFL Bye Weeks
| Week | Teams |
| --- | --- |
| Week 6 | Detroit Lions, Houston Texans, Las Vegas Raiders, Tennessee Titans |
| Week 7 | Buffalo Bills, Los Angeles Rams, Minnesota Vikings, Philadelphia Eagles |
| Week 8 | Kansas City Chiefs, Los Angeles Chargers |
| Week 9 | Cleveland Browns, Dallas Cowboys, Denver Broncos, New York Giants, Pittsburgh Steelers, San Francisco 49ers |
| Week 10 | Baltimore Ravens, Cincinnati Bengals, New England Patriots, New York Jets |
| Week 11 | Jacksonville Jaguars, Miami Dolphins, Seattle Seahawks, Tampa Bay Buccaneers |
| Week 13 | Arizona Cardinals, Carolina Panthers |
| Week 14 | Atlanta Falcons, Chicago Bears, Green Bay Packers, Indianapolis Colts, New Orleans Saints, Washington Commanders |
1. When drafting, do you keep a mindful eye on the bye weeks to try and diversity your lineup?
Brandon Niles: When I start taking backups, I start to take a look at where my bye week exposure is, especially at TE and QB, where I typically will only carry no more than two of each on my roster. I try to ignore it early on. I want the most talent I can squeeze out in the first six or so rounds of the draft, then I figure I'll worry about the bye weeks later on.
Jeff Hicks: Yes and no. I'm in trouble if I'm loaded with a roster split between a couple bye weeks, but talent is always at the top of my list. Outside of best ball formats, I can shape my roster throughout the season. It is equally or more important to "win the waiver wire" as "win the draft." Stacking matters in best ball, so the key for me as I try to stack offenses is make sure that they do not share a bye week.
Justin Edwards: To some extent, yes. But I don't allow it to dissuade me from drafting somebody, especially in a hectic year like the one we're currently in. Who knows who all is even going to be healthy by the time bye weeks start rolling in.
Scott Pagel: I used to, but really don't pay a lot of attention to it during most drafts. I used to be pretty anal about it, but began to realize that rosters change a lot just a couple of weeks into a season. I'm obviously aware of it weeks in advance if there are any potential issues, but on draft day it barely enters my mind anymore.
Jennifer Eakins: Absolutely. I won't go out of my way to reach for a player or pass on someone I really want due to bye weeks, but if there are two guys I like at the same ADP and one has a bye week conflict with someone already on my roster, I'll opt for the other one. In redraft, I may be a bit more lenient because you are able to stream certain positions, and add or drop players on a weekly basis.
George Kritikos: Not really. I value player production over bye weeks and am willing to sacrifice a week or two if I have a player preference. The only exception I might make is in a very large league with a shallow waiver pool. I'm more likely to consider bye weeks in those circumstances on specific occasions.
Chris Allen: Yes and no. I pay attention to it, but, depending on my approach, I may actually lean into the risk of stacking bye weeks to try and swing for the fences. For instance, if ADP allows I may try to stack a team's passing attack to gain an edge on my league. A Dallas stack (Elliot-Lamb-Prescott) is well within the realm of possibility, but it'll leave you missing at least three players in a single week. However, if they meet their projections, you'll have gained an advantage on your league and only have to concern yourself with having your primary players out for a single week. It's a calculated risk, but one worth considering when drafting.
Andrew Fleischer: In redraft leagues, my primary concern with byes is with tight ends, and even then, only when tight ends have an early bye. For 2022 that means Darren Waller and T.J. Hockenson (Week 6). I'm not concerned about byes after that, because if I've rostered two tight ends that are both returning value through the first six weeks, it's likely to be easy to trade one for value elsewhere. I usually aim to draft just one quarterback in redraft unless extreme value falls to me, and again, if I do draft two, I'm apt to trade one for value elsewhere if both are performing. I don't think about byes much at all when it comes to running backs and wide receivers, unless I've got 3 RBs sharing a bye or 4 or more WRs, in which case I'd try to eliminate later-round options with that same bye.
Consensus: The experts mostly agree. They don't think about it early, but keep an eye on it when it's convenient. Talent still tops bye week exposure, and fantasy owners shouldn't be dissuaded from grabbing the better player, particularly early in the draft.

2. Do you think it's better to punt one week by stacking bye weeks, or spread them out to limit your weekly losses?
Brandon Niles: I understand the idea behind taking a strategic loss by stacking bye weeks, but I usually don't follow this approach. I'll be mindful of the bye weeks as I'm acquiring depth, as long as it doesn't force me to sacrifice legitimate talent. I have the same approach when it comes to drafting to fill out my lineup. I like to get starters at key positions, but if the WR is significantly better than the RB on the board, I'll ultimately side with the talent. So my answer is to spread them out, but not dogmatically.
Jeff Hicks: This kind of ties into my strategy for best ball. I believe in diversity as opposed to losing a week, especially in head-to-head where I have control of my lineup.
Justin Edwards: I would never avoid stacking a team (or teams) just because of bye weeks, and if that means I'm going to have a very tough week, then I am fine with that. It's only one week over the course of the season.
Scott Pagel: I don't purposely try to stack bye weeks, but some years, it's been pretty brutal for me where I needed to pick up and fill at least five spots in my starting lineup. That's about the worst I remember it getting over the past few years. Overall, I think I'd rather have one week where I struggle vs. spreading it out. Those five-starter instances are pretty rare.
Jennifer Eakins: I'm not a fan of punting weeks at all, but I think it's the ultra-competitive side to me that won't allow it. I want maximum points, always. I do like to stack in leagues, though, but I pay attention to byes and try to even out the other players on my roster.
George Kritikos: I'm willing to stack for the right offense. Teams like Kansas City and Buffalo can provide a substantial advantage across multiple weeks in exchange for punting one. It's more important to win games big and maximize a fantasy score than it is to try and limit losses and potentially put your team at a slight disadvantage across the bye week period.
Chris Allen: If I had to say which is 'better', I'd say spreading out your roster byes over multiple weeks. While stacking limits your risk to a single week, in that week, an injury may occur or some waiver wire player might become the next league-winner by becoming a starter. Having the flexibility on your bench to churn your roster is an underrated aspect of fantasy that can keep you in a position to capitalize on free agents.
Andrew Fleischer: I don't think it's a death knell for a team to punt a week with a bye-pocalypse, but I'm never aiming for that outcome. Again, a swath of rostered players with an early-round bye could be problematic given the importance of winning those early weeks, but that's not an issue in 2022 because there's no Week 4 or Week 5 bye. I'll avoid the prospect of punting a week in best ball, because the point-loss in that format could knock your team out of contention.
Consensus: It sounds like most prefer to stagger bye weeks and spread throughout the season, but still not sacrificing talent to do so. Chris and George mentioned stacking high-performance offenses, which makes sense. Huge bonus points to Andrew for the term "bye-pocalypse."
3. Does your bye week management strategy differ depending on the type of league you're playing in (i.e. redraft, dynasty, best ball)?
Brandon Niles: Definitely. Best ball lineups I try to be really cognizant of bye weeks, especially at the QB and TE positions. The RB and WR positions, I still want value, but I'll keep a watchful eye on it. If I have a lot of a specific bye week exposure in my best ball lineups, I try to compensate for it deeper on my roste, if possible. In redraft leagues, I pay attention at QB and TE, but that's it. I pay zero attention to bye weeks when drafting for dynasty.
Jeff Hicks: It can for sure. Best ball allows me to stack offenses and make sure not to stack two offenses on the same bye week. Redraft is talent over bye week 100% of the time unless I'm about to add a third player at the same position as two others with the same bye week. I don't play Dynasty, but I can't imagine I'd change my strategy at the thought of passing on talent in a rookie draft.
Justin Edwards: I may not pay a ton of attention to bye weeks in redraft/best ball, but I definitely hardly ever think about it for dynasty. I don't believe changing the value of a dynasty commodity because of a bye week would be wise.
Scott Pagel: In best ball, I will pay attention to it a little more. In keeper leagues where maybe we keep one, two or three players, it may affect my first pick if I'm looking at a player with the same position that I kept. I may let that be my deciding factor when making the pick if I'm torn between a couple of players. In redraft leagues, I really don't pay too much attention anymore.
Jennifer Eakins: Much to the chagrin of many in the fantasy football community, I do not play in dynasty leagues. However, I do alter my approach somewhat in redraft and best ball formats. When drafting for best ball leagues, I am sure to at least have a starting lineup for every week because it's really difficult to make up big chunks of points throughout the course of the season if you fall behind. Even if it's a late-round flier, I want to have a body for every position weekly, especially because you are unable to add anyone as the season progresses.
George Kritikos: Not too much. I would say it lowers more, I consider bye weeks less, in a dynasty format knowing that I am investing in a team for multiple seasons. For best ball leagues, I do try to mind the bye weeks some in terms of roster depth but am still willing to stack key offenses and take a hard bye week to accumulate points and wins in other weeks.
Chris Allen: Absolutely. With best ball, it's primarily about ensuring your 'onesie' positions (QB, TE, etc.) don't overlap in bye weeks. You need constant production at the position and a zero in any week may set you back in the rankings. Dynasty is a little more flexible as the rosters tend to be a bit deeper. You can make justifications for guys at the end of the depth chart that at least have an obscure path to ascending to the starting lineup. They can either be players you start in bye weeks or trade fodder to upgrade to a better player. Redraft bye weeks are a bit more complicated as the rosters are smaller, and some roster settings don't allow for IR slots. Bench spots are at a premium and that's where you get into the discussion of holding handcuffs or players without standalone value that may be best left out on the waiver wire.
Andrew Fleischer: Format definitely matters—I don't think about byes at all in Dynasty leagues given the multi-season format, and I'm far more cognizant of byes in best ball leagues than I am in redraft. In 18-round best ball leagues like Underdog with no kickers or defenses, I prefer to draft just two quarterbacks, and will avoid a QB2 who shares a bye with my QB1 at all costs. In Fanball's Bestball10 leagues, I'll also avoid stacking byes with my tight ends since I'm often drafting just two.
Consensus: Sounds like it matters some in Best Ball formats and not at all for dynasty leagues. Redraft formats really depend on the structure. Everyone to some extent mentioned watching the onesie positions, but Chris brought up bench size as a factor. Basically, if you can churn your roster on a deep-ish waiver wire, then byes in redraft don't matter too much. But if your wire is likely to be thin, watch the onesie positions.
4. How do you approach kickers and team defenses during bye weeks (do you drop your starter, carry multiple during bye weeks, or stream all season)?
Brandon Niles: If I have a dominant kicker or team defense, I might carry two during the bye weeks, but the truth is I never draft a kicker or defense high enough to secure a top-five one. I tend to stream both positions all season, and I use 4for4's awesome weekly in-season content to do it effectively (shout-out to Jennifer Eakins' weekly kicker article and Joe Redemann's weekly defense article).
Jeff Hicks: I will carry a defense on bye in my home league because they're vicious and force holds with our deep rosters, and only if I streamed them into a starting position. The Patriots last season were a boon for half the season, but then they fell off and hurt a lot of teams thinking week-to-week projections and performance are consistent with defenses. Kickers are kickers, and I add/drop as the season goes.
Justin Edwards: Unless I have stumbled into a bonafide top-five unit/kicker, I'm going to drop them when they're on a bye week. Unless they are consistently putting up double-digit points, I'm confident I can find a comparable replacement.
Scott Pagel: It really depends on when the bye weeks approach for those positions. If I have a kicker or defense that is maybe the top-ranked mid or late in the season, or just someone I really like, I will at least try to carry a second at the position for one week if at all possible. Sometimes it's just not possible. Some leagues freely drop those positions no matter what their rank, so those leagues I'm more open to drop the starter. Other leagues, teams tend to hoard so I usually do the same if I can swing it.
Jennifer Eakins: I actually stream both positions weekly throughout the season and feel pretty strongly that it's the best way to maximize points from both of those positions. However, if one gets hot, I have no problem hanging onto them during their bye week and grabbing another just to use for that contest.
George Kritikos: I usually drop my starter unless I have a truly elite kicker or defense who provides a true advantage every week. I will stream in many cases unless there are transaction limits, a competitive waiver wire, or large rosters that convince other owners to roster multiple options. Most kickers and defenses are pretty similar overall so there is rarely a reason not to play matchups.
Chris Allen: Unless it's a kicker attached to one of the top offenses in the league (Bass, Butker, etc.), I stream the position on a weekly basis. A lot of the concepts Denny Carter and Jennifer Eakins discuss in their kicker pieces are staples to my process for selecting a kicker. Defenses have a bit more nuance to them as we can, at a high level, project how a defense should fare on a weekly basis. I don't typically draft the elite defenses (DAL, NE, etc.) as their yearly performances vary year over year. I will find a unit with good players attached to a strong offense (e.g. BUF, KC) to start the season and will stream if their performance begins to wane.
Andrew Fleischer: In a typical 12-team redraft league, I'll only draft one kicker and one defense and fire a couple extra shots at wide receiver and running back, and it's not a terrible proposition to forgo kicker entirely if the league allows and pick one up off waivers just prior to Week 1. Unless I've drafted a kicker who's pacing the entire league, I'll just drop my kicker for the bye week and stream the rest of the way. Usually, I'll just stream week-to-week at the position. I do like to draft a team defense, but unless I'm carrying a top-five unit like Cowboys/Patriots, I'll stream based on matchups every week regardless of byes.
Consensus: Most of the analysts agree that the positions are streamable, but will keep an elite player if possible. Perhaps the best note here is not to draft one early. George re-iterated a key development in all leagues – check your league settings! Transaction and roster limits can answer this question for you.
5. Do you help out other fantasy owners in your league if it's getting close to game time and you notice they're starting someone on a bye week?
Brandon Niles: I will if I notice, but I rarely do if I'm not the commissioner or playing against them that week. I think it's good karma to let someone know if you see a glaring issue with their lineup. A bad decision is one thing, but if I see my opponent is starting someone on bye or inactive, I'll shoot them a message.
Jeff Hicks: I do if I catch it. I have two kids and enough teams to look at so it isn't a priority, but I also know it's the same for others.
Justin Edwards: Good question. I believe if you're commissioning a league then it's your duty to TRY to make sure everybody is set up for success. In other leagues, I'm not even checking other teams' lineups every week, so I doubt I even notice when it happens. Sure would get some good karma points if you let an opponent know, though.
Scott Pagel: Absolutely not! I'm 47 years old now, and play mostly with friends or co-owners who are similar in age. We all have a lot going on - I have a job, am a 4for4 scout on the side, help to coach my kids' soccer and flag football teams, and now it looks like I'll have to home school them as well. I always make time to prepare my lineups in numerous leagues, so they can to!
Jennifer Eakins: To be totally honest, it depends on the person and who their opponent is. I mentioned I was ultra-competitive, right?
George Kritikos: Yes, I tend to notify another owner if they have players on bye week. I want a competitive league with everyone's best effort but understand that we all have lives outside of fantasy football (sometimes!). It's meant to be fun and the collegiality is a big part of that.
Chris Allen: Typically, yes. I'd hate for that to happen to me and folks aren't always paying attention to their lineups. Besides, fantasy football is so random that even if they did start a player that's out I'd likely still wind up with a lesser score.
Andrew Fleischer: In long-running home leagues, I'll try to create win-win propositions with trades that can solve both my and my league-mate's bye issues. If bye issues aren't a problem for me, I don't have an issue with trying to extract a little extra value from another owner. And then talking some smack when it becomes clear that they traded the wrong guy.
Consensus: The analysts are all over the place here! Whether you go the ultra-competitive side, or the good karma side, it sounds like there's a place for you!