Optimizing Your Dynasty Startup Draft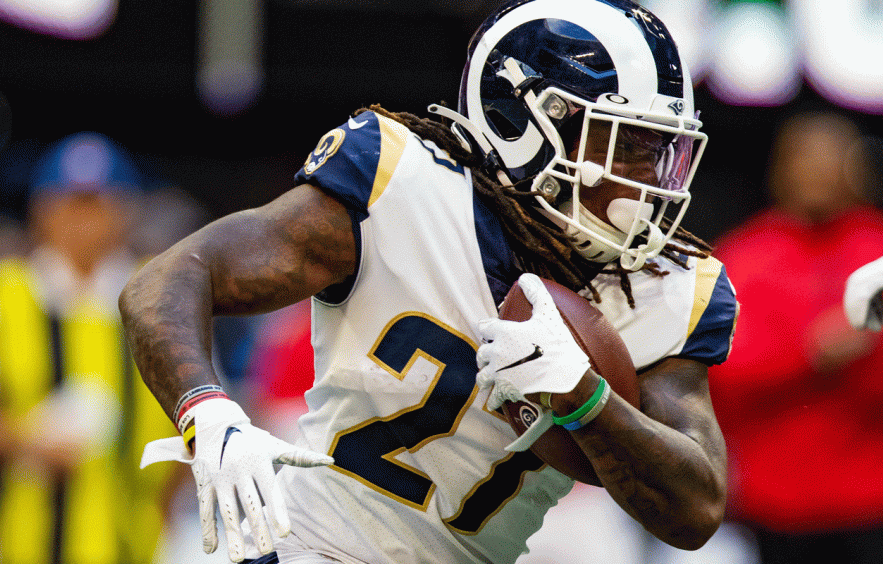 Carmen Mandato/Getty Images
With startup dynasty drafts in full swing - I have one currently running - it is important to understand how to build a successful team. It comes down to more than player analysis, as draft position, opposing teams' selections, and trading can all impact roster construction in a moment. That means identifying draft targets and making the appropriate moves (or staying put) to land those key players.
The focus here will be to review the startup draft landscape provided by our friends at Dynasty League Football to highlight an early (first four picks), middle (middle four picks), and late (last four picks) round option along with commentary. We will focus on the 20 rounds they have available. They conduct monthly startup mock drafts to determine player values throughout the season. The assumed format is one quarterback with PPR scoring and these mock drafts took place before the NFL combine.
---
4for4's Post-NFL Combine Rankings: Top 200 Dynasty | Never-Too-Early Redraft
---
Round 1
The first two for me are pretty easy. McCaffrey is the top option in dynasty leagues while Ezekiel Elliott is a bellcow back with job security and a good offensive line. Joe Mixon was tougher, as I considered Nick Chubb but the presence of Kareem Hunt has me tentative to his near-term ceiling. The overall strategy in Round 1 seems to focus around a running back, and with seven going in the top 12 picks, any draft slot should guarantee a good option.
Round 2
Six wide receivers go in Round 2 and that's where I would like to focus my selection here if possible. Moore has all the tools and it's likely the quarterback situation improves in 2020, so there is somehow even more upside for the 22-year-old. Lamar is tougher to justify but the middle of the round featured George Kittle and a pair of running backs I don't like. At least with Lamar, I get a longer career timeframe and a clear advantage at the quarterback position. Brown may seem like an odd choice this early, but I was a fan of his coming out and think he will be a safe option for dynasty owners at this point.
Round 3
The theme in Round 3 is young players poised for a breakout. Sutton in a sense had his, but the ceiling is even higher with Drew Lock getting comfortable in the Broncos offense. Sanders should operate as the primary option all season and showed the big play ability to be a premier running back. Dobbins, the third overall rookie being selected, has a well-rounded skill set that should translate well to the NFL. This is the right range for him to be selected.
Round 4
The fourth round has a nice mix of youth and experience. Metcalf was an easy choice in this round as he could cost a top 24 pick within the next six months. Another rookie in Jerry Jeudy, who I chose over fellow first-year option CeeDee Lamb, has such a high floor that I feel confident taking him regardless of landing spot. As for Tyler Boyd, it was between him and Calvin Ridley, but I'll go with the top option who should get a quarterback upgrade.
Round 5
We have another round that is wide receiver heavy. Andrews was the best of a bad lot as I would've traded back or reached for a different player like Gallup or Christian Kirk there. Luckily, I had the chance at Gallup in the middle of the round, who I think will get Dak Prescott back and should continue his ascent. Robert Woods is perpetually underrated, going two full rounds after teammate Cooper Kupp despite fewer injury concerns and being just two years older.
Round 6
This feels like a good place to round out a roster if you've gone positionally heavy early on. Montgomery is on solid footing, a rarity for a running back at this point in the draft, and should have another full season at a minimum as the undisputed lead option. Engram is a personal favorite and barring health, is capable of threatening Travis Kelce in dynasty positional ranks. Murray finished as a top 10 quarterback with those offensive weapons. Imagine if they fix the line and add more receiving options.
Round 7
There were several interesting 2020 rookies and plenty of uncertainty here in the seventh. Hollywood Brown fits with Lamar so well and will only see more playing time (58% of snaps in 2019) next year which means more big plays. Shenault may be the closest thing to Anquan Boldin we have seen since the former Cardinal retired and I love a sure-handed player who can create after the catch. His 40 time doesn't scare me and may be the result of a lingering groin injury. Lindsay doesn't get enough credit after two good years. The backfield is his and the offense is on the rise so this is a good place to buy-in.
Round 8
This felt like another place I'd trade down from as the group here didn't stand out. Hunt is a huge gamble but the talent is obvious even if I have to wait another year for him to leave Cleveland. Hardman may be a waiting game too depending on Sammy Watkins' situation, but he has big-play ability and could surpass Watkins even if he's around in 2020. Hockenson was another "best of a bad situation" pick as I love his talent but don't feel comfortable picking him this high. Detroit's offense is a mess and I'm not ready to invest in it at the moment.
Round 9
Eight of the 12 picks in this round were wide receivers, so no surprise I went to the well here each time. Johnson could lead the Steelers in receptions next year as the possession receiver across from JuJu Smith-Schuster. Rookie Justin Jefferson had a big season at LSU and could be a Jordan Matthews style big slot receiver or be more versatile like Stefon Diggs. Some nice combine results could push him up the board soon enough. Preston Williams looked great before an ACL injury and should fit in the offense whether it is Ryan Fitzpatrick or Tua Tagovailoa taking snaps behind center.
Round 10
This was another place where I didn't see many targets that interested me, prompting possible trade down or reaches for me if I were in this situation. Baker Mayfield will be a hill I live or die on. This feels like a fair place to take a chance he returns to top five dynasty quarterback value. Dede Westbrook has PPR upside but I suspect the Jaguars could look for a wide receiver fairly early in the draft. I just disliked the other options (looking at you Raheem Mostert) more. As for Josh Allen, he continues to get disrespected in dynasty leagues. He has rare rushing upside, particularly in the touchdown department, and could be a Cam Newton facsimile.
Rounds 11-12
We will combine rounds the rest of the way here. Round 11 featured the top rookie quarterback, three failing former first-round NFL picks, and several high producing veterans. I passed on them all in favor of Henderson, who barely played, which later was revealed to be partially due to injury, and seems like the type of player who could have a big second year and maybe even take over the Rams backfield at some point in 2020. Round 12 also has a rookie quarterback, veterans, and formerly hyped players. I chose a player who will get hype as the draft process goes on in Brandon Aiyuk, the Arizona State wide receiver. He has an otherworldly ability to create after the catch and should fit into today's wide-open NFL quite well.
Rounds 13-14
As we get deeper into the weeds, the choice becomes whether you want to draft a productive veteran to round out a lineup or focus on young players with a chance to break out. The former would have seen picks like Alshon Jeffery and Golden Tate rather than the two I selected. In Arcega-Whiteside, the second-year receiver is hitched to a good Philadelphia offense in need of standout receivers for Carson Wentz. He could become a quick favorite in the red zone. As for Perriman, he finally showed the promise so many saw with a late-season surge on the Buccaneers (the WR3 from Week 13 on). As a free agent, he could inherit a stable starting role.
Rounds 15-16
A quarterback run occurs in this range with eight selected in this two-round range. While it is tempting to go after the rookie in Justin Herbert, it's hard to forget that Cam Newton is still just 30-years-old and has six seasons with 280-plus fantasy points under his belt already. He's a good backup dynasty quarterback to take a chance on. Knox in the 16th is another upside play for a young tight end in an emerging Buffalo offense. He could see an Austin Hooper-like ascension over the next few years playing alongside Josh Allen.
Rounds 17-18
As we start to make some dart throws in these rounds, situation becomes more important. Dante Pettis fits the bill as he should get another chance to be a starter for the 49ers. The upside isn't huge but at this point in the draft, but it's higher than most. Ebron is a free agent and there should be no lack of suitors, in theory. He turns just 27 in April and is only one season removed from a TE4 finish.
Rounds 19-20
Essentially a pick your flavor here, these picks could have gone in a number of directions based on how my team was shaping up. Josh Reynolds has flashed when Rams receivers have been hurt, which is often, and may see a larger role if Brandin Cooks is released. As for Bryce Love, he's the cheaper hedge to Derrius Guice and was wildly successful at Stanford prior to a knee injury. There is no clear leader in the Washington backfield as it stands today so this is a cost-effective way to buy-in.
Draft Recap
That's it for the startup draft. Overall, it's clear that the running back position is top-heavy while there is much more depth at the wide receiver position. That would indicate a need to leverage early picks on rushers and find depth at receiver in the middle rounds. Tight end has a lot of uncertainty, but plenty of talent. The same could be said for the quarterback position outside of the top options.