Spend more time winning, less time guessing.
Receive 3 FREE downloads from the most accurate fantasy football website since 2010:

Rest of Season Rankings (Top 10 at Each Position)
Waiver Wire Look Ahead (Get an Edge! Find FA Pickups for NEXT Week)
Daily Fantasy Football Quick-Start Guide & Bankroll Growth Blueprint

PLUS, get breaking player news and analysis in your inbox.
Trusted by over 20,000 users and 70,000 leagues.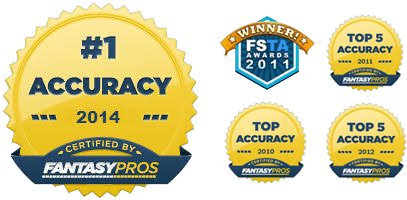 The Most Accurate Rankings 2010-2014