Fantasy Football Draft Software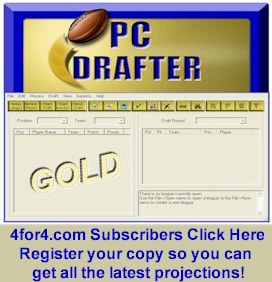 4for4 subscribers receive the PC Drafter system, a $17.95 value, free. PC Drafter combines 4for4 player projections with a powerful, heads-up drafting platform to help you ace your draft. All 4for4 player pojection updates after June 1st will be for subscribers only.
Not a Subscriber?
If you are not a 2015 4for4.com subscriber, you can sign up here to receive your free copy of PC Drafter, or you can download a free trial copy of PC Drafter at PCDrafter.com (without the latest data updates)
Learn how to make the playoffs and WIN.
Find draft bargains.
Master auction strategies.
Manage injuries like a champ.
ADDED BONUS: Learn how to beat FanDuel & DraftKings.
Receive breaking news alerts.