Best Fantasy Football Draft Software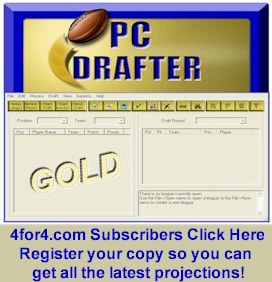 4for4 subscribers receive the entire pcDrafter system, a $17.95 value, free! pcDrafter combines 4for4.com player projections with a powerful, heads-up drafting platform to help you ace your draft. All 4for4.com player pojection updates to pcDrafter after June 1st will be for subscribers only.
Not a Subscriber?
If you are not a 2014 4for4.com subscriber, you can sign up here to receive your free copy of pcDrafter, or you can download a free trial copy of pcDrafter at pcDrafter.com (without the latest data updates)
Does pcDrafter really draft a better team? Check this out.
---
MOCK DRAFT, AUCTION, IDP, KEEPER, GOLD ALGORITHM
A note from 4for4 founder, Greg Alan
Hi Folks, some big news.
4for4.com has once again teamed up with our friends at pcDrafter.
All current year 4for4.com subscribers will receive the entire pcDrafter system, a $17.95 value, free with your subscription.
Henry Bass (President of Automation Creations, Inc.), Brandie Searle (Founder of Draft Masters Software) and the entire team at pcDrafter have built one heck of a tool. They have designed it to help you crush your opponents during your draft, and to help you prepare for the big day as well.
I've poured over pcDrafter with the GOLD algorithm and am convinced it's the best PC drafting software available on the market today.
I believe the GOLD algorithm dynamically delivers the most robust player recommendations on the planet. In turn, pcDrafter slam-dunks the competition as it outwits Average Draft Position (ADP) and old-fashion and commonplace Value Based Drafting (VBD) methods.
The results? You draft a vastly improved team as pcDrafter analyzes all of the key info and dynamic events going on in your draft. GOLD constantly recomputes your best pick after analyzing each team's needs, the league needs, the best value pick currently available, league bias and much more - all in a fraction of a second. No other algorithm takes this much into consideration.
Like any new software, I found it takes a few minutes to learn the ropes. Still, pcDrafter is very easy to use and its time well spent. You'll find a handful of big buttons: Start Draft, Mock Draft, Setup League; it's about as easy as it gets.
You'll find an improved user interface, a strength of schedule display, and some big enhancements to the mock draft and auction values. You can run mock drafts with GOLD pitted against ADP. There's also a summary report at the end of both live and mock drafts that tells you how your draft grades out.