2013 Fantasy Football Draft Kit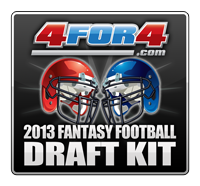 Here is everything you need for your 2013 fantasy football draft.
We provide you with Cheat Sheets, Projections, Rankings, Analysis, and PC Drafter software.
All you have to do is subscribe.
A premium subscription includes much more than just the Draft Kit -- you get week-to-week rankings and analysis all season long, member-only freerolls, your own personal team consultants on the Draft Board, and much, much more.
Last Update: Monday, July 28, 2014
2013 CHEAT SHEETS
Rankings & sortable projections
Draft Day Tools
Customizable for your roster requirements, league size and PPR/STD scoring
Auction Leagues
Keeper Leagues
Check out our friends at DLF for more dynasty focused content.
IDP Leagues
Individual Defensive Player rankings & projections
2013 PC Drafter
Downloadable draft day software from our partners at PC Drafter. Available FREE to all 4for4.com subscribers -- a $17.95 value.
Full Impact - Custom Scoring Tools
Our projections. Your scoring rules. Custom rankings, cheatsheets & tools.
Perfect Draft Series
Full draft breakdowns as 4for4 staff battles PC Drafter in mock drafts from various drafts spots and league configurations
Schedule Analysis
Unparalleled SOS Hot Spots reports for at-a-glance matchup planning
Ranking Factors Explained