The unquestioned daily fantasy industry leader, FanDuel won the FTSA's (Fantasy Sports Trade Association) award for best fantasy contest in 2013. Daily Fantasy Sports is largely about numbers, and FanDuel boasts some impressive ones. Owning a robust 65% market share of the daily fantasy sports industry, the site projects to pay out over $400 million in total prizes this year, and up to $6 million per week. Through two quarters of 2014, their total payouts have ballooned to over $129 million, which is triple what they paid out through two quarters in 2013.
In addition to the NFL, FanDuel offers a large variety games in NBA, MLB, NHL, and college football and college basketball. If you're interested in playing on FanDuel, read on for an in-depth review of the site's user experience.
Get started playing at FanDuel today.
Incentives
Although FanDuel is an all-around strong site, it's incentives are rather pedestrian. This is likely due to the fact it is the industry leader, giving it less incentive to offer incentives (pun absolutely intended).
FanDuel awards FanDuel Points (FDP) at the rate of 10 FDP per dollar spent in entry fees. Every 2,400 FDP is worth one dollar towards entry fees, effectively giving you $1 free for every $24 you spend on entry fees. In addition, the site runs regular FDP Freerolls—free contests for those who earn a set number of points each month.
There is also a referral program where you earn a percentage of monthly net revenue from everyone who signs up through your referral link. Monthly net revenue (MNR) is calculated as approximately 10 percent of the amount that your referrals spend in entry fees (essentially the site's rake) each month. FanDuel pays out a 20 percent commission on the first $1,000 of MNR, a rate which raises incrementally to up to 35 percent if your recruits bring in over $5,000 of MNR in a month.
Incentive Rating: 7/10
Usability
FanDuel's interface is clean and easy to use. You can quickly toggle between the contest lobby, your live contests, upcoming contests, or your entry history using tabs on the top of the page. It is easy to quickly filter through different types of leagues and contests in the lobby using a set of buttons on the left side of the screen.
The site offers a "Quick Player Replace" option for those times when you need to replace a player in multiple lineups in a pinch. This is invaluable when you have limited time to react to late breaking news, such as Reggie Bush slipping on the snow in pregame warmups and not being able to play (yes, that really happened).
They also offer "import lineup" and "export lineup" features, but has now paired these with another extremely useful feature: one-click lineup entry. In the past, users had to visit a whole new page and manually go through the process of entering or importing lineups into every different contest one by one, which was particularly tedious if you were a high volume player. Now, once a user clicks the button to enter a contest in the lobby, a menu containing all of your previously created lineups pops up. You can then simply click the lineup you want to use and move on to the next contest without having to navigate to a new page. This feature also works on the mobile version, although the "export lineup" feature is not supported yet at the time of this writing.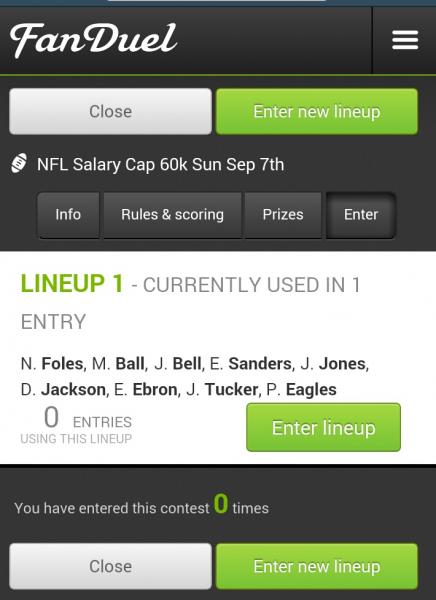 Despite the lack of an export lineup feature (which may be added in the future), FanDuel's mobile version on the whole is very good. It is very crisp, minimalistic, organized, and easy to navigate. There is a button at the bottom to toggle from mobile to full site, so you can still access all of the full site's features (like export lineup) from your mobile device.
FanDuel has a very useful option to export all your past game results to a .csv file, which is crucial for users looking to analyze their long-term results. Curiously, no such option is available to export player salaries yet.
The site did do away with their live chat, so if you enjoyed talking trash, the only way to make noise going forward will be to let your game do the talking and move up on their leaderboard.
Usability Rating: 8/10
Action
FanDuel has more action than any other daily fantasy site. Whether you're a beginner or a high-rolling "shark", they have you covered.
For the players playing at lower entry fees, the $1-$10 games are essentially unlimited, and when a contests of a certain type are about to fill up, more are created. I have personally witnessed countless instances when additional versions of the site's $2 GPP tournaments were created 15-20 minutes before game time, and still filled up completely! FanDuel's contest sizes are also the largest in the industry. Double-ups typically have 223 contestants, and some of the larger tournaments have over 10,000. Because the site has so many new players, it is also a great site to play head to head matchups, with one caveat.
Because FanDuel pays out the highest prizes and has the most action, it naturally has a large number of "sharks"- skilled high volume players with large bankrolls. Every user has a public profile detailing how many games of each sport the user has won, so less experienced users have to be careful about creating their own head to head contests because the sharks may quickly scoop all of them up. Therefore, the best way to play head to head on FanDuel is to act like a shark yourself and scour the lobby for players with similar or less experience than yourself.
For players with larger bankrolls, FanDuel typically offers numerous contests with entry fee price points at $25, $50, $109, $270, $535, $1,009, $2,660, and $5,300. The site did impose a supposedly "self-enforced" limit on the number of games per day a user can enter for NBA contests, but it is unclear if this will carry over to the NFL season. If it does, it will provide even more opportunity for beginners or those with smaller bankrolls, with most sharks eschewing the smaller stakes games in favor of those with higher entry fees.
Action Rating: 10/10
Rake
FanDuel's rake is a standard 10 percent for games $50 and under, and decreases gradually as you get into the higher stakes games. Overall, the rake is on the higher end of the industry.
| | | |
| --- | --- | --- |
| Entry Fee | Standard Rake | Tournament Rake |
| $50 or less | 10% | 10.40% |
| $109  | 8.30% | 9.10% |
| $270  | 7.40% | 7.40% |
| $535  | 6.50% | 6.50% |
Rake Rating: 7/10
Cashier & Support
FanDuel allows deposits through Visa, MasterCard, Discover, and Paypal, but not American Express. Withdrawals are processed through Paypal only, typically within 24 hours. FanDuel covers all Paypal fees.
The site offers numerous support options: users can email support@fanduel.com, call 1-800-475-2250, or submit a support ticket through the site.
Cashier & Support Rating: 10/10
Bottom Line
FanDuel continues to be the frontrunner in daily fantasy sports. Their primary draw is the amount of action on the site- users can always find a game regardless of the stakes. And since FanDuel has the most name recognition, they attract owners of all skill types, making the site valuable for both beginners and advanced players. FanDuel's incentives and rake are average, but the sheer numbers of users and leagues along with the recent improvements to the site's interface make it a must-use site for all daily fantasy players.
Overall Rating: 42/50
Get started playing at FanDuel today
---
Other Details
Lineup Requirements
1 QB, 2 RB, 3 WR, 1 TE, 1 K, 1 D
Although running backs are favored in terms of scoring, wide receivers gain value because you start three. There's no flex position, meaning you don't have an option to start three running backs. With the 0.5 PPR, FanDuel has done a nice job of equalizing the importance of runners and receivers. Tight ends and quarterbacks take a backseat.
Scoring
Note that the scoring on FanDuel favors running backs over other positions. At just 0.5 PPR, pass-catching running backs hold more value than your typical wide receiver. Otherwise, scoring is pretty standard. Note that at one point per 25 yards passing and four points for passing touchdowns, quarterbacks don't hold a ton of value, although some if it is recouped with just one point lost for interceptions.
| | |
| --- | --- |
| Stat | Points |
| Rushing yards | 0.1 |
| Rushing touchdowns | 6 |
| Passing yards | 0.04 |
| Passing touchdowns | 4 |
| Interceptions | -1 |
| Receiving yards | 0.1 |
| Receiving touchdowns | 6 |
| Receptions | 0.5 |
| Kick return touchdowns | 6 |
| Punt return touchdowns | 6 |
| Fumbles lost | -2 |
| Own fumbles recovered touchdowns | 6 |
| Two-point conversions scored | 2 |
| Field-goals from 0-19 yards | 3 |
| Field-goals from 20-29 yards | 3 |
| Field-goals from 30-39 yards | 3 |
| Field-goals from 40-49 yards | 4 |
| Field-goals from 50+ yards | 5 |
| Extra-point conversions | 1 |
| Sacks | 1 |
| Opponent fumbles recovered | 2 |
| Interception return touchdowns | 6 |
| Fumble return touchdowns | 6 |
| Kickoff return touchdowns | 6 |
| Punt return touchdowns | 6 |
| Safeties | 2 |
| Blocked kicks | 2 |
| Interceptions | 2 |
| 0 points allowed | 10 |
| 1-6 points allowed | 7 |
| 7-13 points allowed | 4 |
| 14-20 points allowed | 1 |
| 28-34 points allowed | -1 |
| 35+ points allowed | -4 |