FanDuel is the most popular daily fantasy football site in the world with offices in New York City and Edinburgh, Scotland.  FanDuel routinely pays out over $2 million in winnings each week during the NFL season.  They offer one of the widest selections of daily fantasy leagues and a good user experience. Like Lebron James, FanDuel is the undisputed king of daily fantasy. It's also perhaps the safest daily site out there, so you don't need to worry about losing your bankroll due to flailing business. In addition to NFL, FanDuel offers daily fantasy contests in MLB, NBA, NHL, CFB and CBB. Below we review the five key areas that impact your daily fantasy gaming experience and give you our bottom line on FanDuel.
Get started playing at FanDuel today.
Incentives
FanDuel offers a variety of promotions throughout the season, including a weekly depositors freeroll and up to a 40 percent deposit bonus. They also award FDP (FanDuel Points) every time you enter a game. FanDuel regularly runs promotions that increase the number of FDP earned with each entry. The more you spend, the more you earn. The points can be redeemed for entry into any league. FanDuel also runs regular FDP Freerolls—free contests for those who earn a set number of points each month.
While the rate of FDP points you earn relative to your entry fee changes, you typically receive 10 FanDuel Points for each dollar you spend, and 2,400 points can be redeemed for a dollar of free play. To earn those 2,400 points, you'd need to spend $240, meaning the rate of return is usually around 0.417 percent. In effect, that's like a rake reduction of 0.417 percentage points. In a typical league with a 10 percent rake, the FDP program transforms the "real" rake to 9.583 percent.
Incentive Rating: 7/10
Usability
FanDuel's interface is clean and easy to use. The draft room is very simple, allowing you to easily and quickly submit lineups. It is, however, a bit time-consuming to submit lineups to multiple contests. FanDuel has an "Export Lineup" feature, but you must manually import lineups to each league. There is no one-click option.
FanDuel offers "Quick Player Replace" and "Export" tools for managing multiple lineups. These tools are invaluable for Sunday morning last-minute suprises, a last-minute Maurice Jones-Drew scratch, for instance. Games must still be created one at a time, however, which can become cumbersome if you are a high-volume player.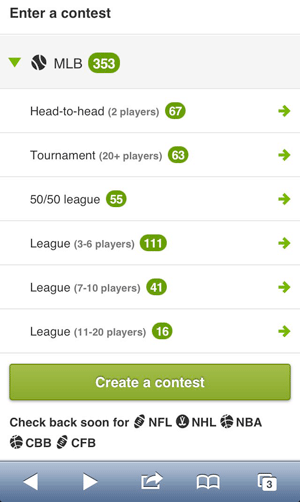 FanDuel's mobile experience is perhaps the best of any daily fantasy site. It's extremely minimalistic, displaying available leagues in one area and your entered leagues and rankings in another. 
FanDuel also offers a very active forum and chat area, along with leaderboards to track your progress with the site's best players. Overall it's a very good environment for daily fantasy players.
Interface Rating: 8/10
Action
FanDuel offers all of the major league types and sizes: 50/50s, heads-up, three, five, 10, and 20-man leagues. They also offer the largest selection of tournaments and championships in the industry, paying out as much as a $150,000 grand prize in 2012.
FanDuel provides players the most action of any daily fantasy site, with a mixture of both novice and advanced players. FanDuel regularly pays out over $2 million in winnings per week, so there's enough money out there for the high rollers, and nearly unlimited $10 and $5 games for the rest of us. Whether you want to get your feet wet in daily fantasy sports or you're a seasoned pro, FanDuel has all of the action you crave.
It should be noted that because FanDuel is so often the first destination for daily fantasy football users, there are lots of beginners playing on the site. This provides an outstanding money-making opportunity for advanced owners and is the number one thing FanDuel has going for it. You might be able to find a lower rake on other sites, but the overall profitability of FanDuel is still excellent—perhaps the top for any site—because of the amount of "dead money" out there.
Action Rating: 10/10
Rake
FanDuel's rake is fairly standard across the board. They don't offer massive discounts for high rollers, but they also don't charge an arm and a leg to compete in any league type.
| | | |
| --- | --- | --- |
| Entry Fee | Standard Rake | Tournament Rake |
| $50 or less | 10% | 10.40% |
| $109  | 8.30% | 9.10% |
| $270  | 7.40% | 7.40% |
| $535  | 6.50% | 6.50% |
Rake Rating: 7/10
Cashier & Support
FanDuel allows deposits through Visa or PayPal. Withdrawals must are processed through PayPal only, typically within 24 hours or less. It's important to note that FanDuel covers all PayPal fees.
FanDuel has numerous support options if needed. The most popular might be FanDuel support chat, where site representatives are quick to answer your questions. I asked multiple questions in the chat at various times—including as early as 8 a.m. and during high-traffic times—and my average wait time for a response was under 30 seconds.
In addition, you can also e-mail FanDuel at support@fanduel.com, submit a support ticket through the site, or call at 917-525-4538.
Cashier & Support Rating: 10/10
Bottom Line
When it comes down to it, FanDuel is the frontrunner in daily fantasy sports. The primary draw they offer is simply action; there are so many users that you can always find a game, regardless of the stakes. And since FanDuel has the name recognition, they attract owners of all skill types. That makes the site valuable for both beginners and advanced owners. FanDuel's bonuses and rake are average, but they stand above the competition when it comes to users and league selection. The lineups could be deeper and the scoring devalues the quarterback position, but overall, FanDuel is a must-use site for daily fantasy sports nuts.
Overall Rating: 42/50
Get started playing at FanDuel today
---
Other Details
Lineup Requirements
1 QB, 2 RB, 3 WR, 1 TE, 1 K, 1 D
Although running backs are favored in terms of scoring, wide receivers gain value because you start three. There's no flex position, meaning you don't have an option to start three running backs. With the 0.5 PPR, FanDuel has done a nice job of equalizing the importance of runners and receivers. Tight ends and quarterbacks take a backseat.
Scoring
Note that the scoring on FanDuel favors running backs over other positions. At just 0.5 PPR, pass-catching running backs hold more value than your typical wide receiver. Otherwise, scoring is pretty standard. Note that at one point per 25 yards passing and four points for passing touchdowns, quarterbacks don't hold a ton of value, although some if it is recouped with just one point lost for interceptions.
| | |
| --- | --- |
| Stat | Points |
| Rushing yards | 0.1 |
| Rushing touchdowns | 6 |
| Passing yards | 0.04 |
| Passing touchdowns | 4 |
| Interceptions | -1 |
| Receiving yards | 0.1 |
| Receiving touchdowns | 6 |
| Receptions | 0.5 |
| Kick return touchdowns | 6 |
| Punt return touchdowns | 6 |
| Fumbles lost | -2 |
| Own fumbles recovered touchdowns | 6 |
| Two-point conversions scored | 2 |
| Field-goals from 0-19 yards | 3 |
| Field-goals from 20-29 yards | 3 |
| Field-goals from 30-39 yards | 3 |
| Field-goals from 40-49 yards | 4 |
| Field-goals from 50+ yards | 5 |
| Extra-point conversions | 1 |
| Sacks | 1 |
| Opponent fumbles recovered | 2 |
| Interception return touchdowns | 6 |
| Fumble return touchdowns | 6 |
| Kickoff return touchdowns | 6 |
| Punt return touchdowns | 6 |
| Safeties | 2 |
| Blocked kicks | 2 |
| Interceptions | 2 |
| 0 points allowed | 10 |
| 1-6 points allowed | 7 |
| 7-13 points allowed | 4 |
| 14-20 points allowed | 1 |
| 28-34 points allowed | -1 |
| 35+ points allowed | -4 |